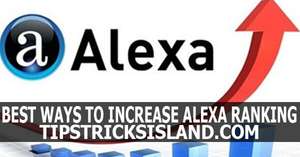 Best Ways to Increase Alexa Ranking
Alexa Ranking
: Today, I have decided to share some personal ideas about
increasing Rank on Alexa
and also this is the question of small bloggers
how to improve Alexa Ranking
because it is a dream to every blogger to show ourselves on the top and we cant do this without SEO (
Search Engine Optimization
) and
Google Page Rank
.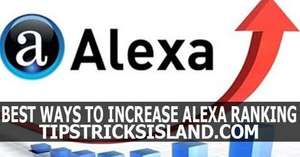 Best Ways to Increase Alexa Ranking
However, I will say that Alexa ranking plays a significant role for the bloggers who want to make something from blogs. It helps in delivery quality advertisers to their blogs which
make money from traffic
.I have already share How can we
make money blogging traffic
.
Main Purpose of Alexa Rank
This is the site that will show your site status means what is your ranking in the world of websites and this calculation is predicated on the traffic your website is receiving. There is also a toolbar by Alexa which can show the actual rank of your blog or website while you open.
Furthermore, it has also other functions which show you last 3 months data and visited pages data on your website.
Why We Must Use Alexa Rank
Everybody wants to earn money with just a single click but that is not easy, to gain something we have to try so many things also Alexa is a tool or a key of that doors from where we can gain something. Alexa is mostly used by Webmasters, Advertisers, and Publishers to check the status and traffic of Blog or Website.
Read:- 5 Tips to Improve Your SEO with Help of Social Media
After finding Site statues they offer their product to be shown on High Ranking Blogs or Website. The main purpose of Alexa is the Ranking of your website worldwide with the calculation of your website Traffic. So lets Start! here are some tips to increase Alexa Ranking.
ALEXA TOOLBAR is a tool which will show your site status every time.
Alexa Widget: Setup Alexa widget on your blog or website because it will help Alexa to count hits of your sites.
These is the foremost necessary tools that will quickly effect on your Alexa Rank. For any further quiry or assistance feel free to contact me or give your feedback through comments.