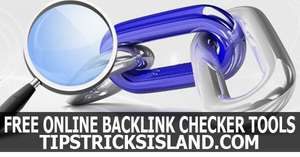 Free Online Backlink Checker Tools
Hope you must follow and read my recently shared tips and tricks for BlogSpot (Blogger.com) optimization. Now we come to another topic and that is Backlink and we will discuss about some best and free online Backlink checker / analyzing tools.
Backlinks are the technique to connect your webpage/website/weblog etc. with another one. If you want to rank your blog you have to create quality backlinks and this is the very tough method I have ever seen my blogging career but whatever it is, you have to more focus about creating high-quality backlinks for Search Engine Ranking.
Check:- GENERATE TRAFFIC FROM OTHER BLOGS
Free Online Backlink Checker Tools
Once I was also new and don't know more about the On-page and Off-page SEO and so far I couldn't search my blog search engines because I have not developed or started creating quality Backlink to my blog but after reading some SEO related tips and tricks.
I have found that Backlink is the technique to rank well your blog in search engines and finally I have started creating backlinks with another blogging platforms.
The question is how you can track or analyze backlinks to your blog or website so check the best online Backlink checker tools.
The best online tool for tracking backlinks to your blog or website either it dofollow or nofolow. It will analyze the complete data of your blog which is completely related to optimization for search engines and show the very correct information about the total numbers of backlinks.
Another very valuable SEO tools from which I have learned a lot of factors for my blogging career and its optimization. After analyzing your blog, you will see the list of backlinks for your blog as well as other SEO related scores.
SmallSEOTools has also a great website for blog optimization, you can easily check there backlinks to your blog by just inserting your blog URL.
The best tool suggested by so many webmasters and ProBlogger for checking most of the SEO factors such as Domain Authority, Page Authority as well as you can check all Internal and External Backlinks to your blog.
Another famous tool for checking backlinks online without any software. Its programmed with Ahref which I have already mentioned above.  You can analyze easily your blog to check all backlinks domain to your blog.
Check: Top and Best Website Blog Analytics Tools
Bottom Lines for Free Online Backlink Checker Tools
All the above external links for backlinks analyzing will help your track all type of backlinks to your blog or any post of your blog with anchor text. for any further assistance, you can ask by replying from the comments box below..