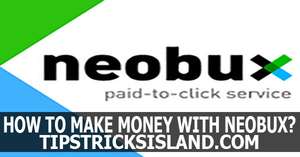 How to earn online money in Pakistan with NEOBUX?
There are so many options to earn money online in Pakistan but the difficult thing is how many of them are scams or legitimate. In this article, I am going to tell you the easiest and legitimate option to earn online money in Pakistan and that is Neobux.
With this online money making system, you can earn maximum 200 $ per month without any investment. Means without spending any single penny, you can start making money online by following the instruction shared below.
VISIT = WWW.NEOBUX.COM
Read:-
How to earn online money with NEOBUX?
First of all sign up on Neobux, it's very easy to create an account on it after creating the account you have to view some advertisement.
Remember there are only four permanent ads so you have to click four times on ads daily anyhow!
Rest of the ads you have to search them it's totally up to you. If you missed a click on those four ads next day as a penalty you will not get you referrals payment so be vigilant about this.
As many clicks to do per day you will get more money for them.
How Neobux converts you click in dollars?
You will earn 0.001 $ when you click on ads like this when you click four times you will get 0.004$. Certainly, this is a very low amount, if we calculate this for a month means you see 30 ads and you get 0.03 $ which is the very low amount and the monthly income will be 0.09$.
There are two best ways to increase the income make more and more referrals for this you are dependent on others.
What are the referrals?
Referrals are the user that works for us there are two types of referrals.
Direct Referrals

Rental Referrals
Direct referrals: are those who you invite to join for example I am going to invite you, when I invite you, you will be in my list of referrals forever and whenever he clicks 50% revenue will be transferred into my accounts, for example, there is 70 click from your friend and 45% money of that clicks will be mine. This revenue is only for thirty days.
Rental Referrals: One rental referral is only for 0.02$ only for 30 days after 30 days if you want you can purchase another referral. If you rental referral is not active means users are not clicking, you can change the rental referral only pay 0.07$.
How to Make Money Online By Selling Photos
How to rent the referrals:
You need minimum 2 $ to rent the referrals so first of all transfer 2 dollars then do many clicks and send the referral click to your friends and ask them to subscribe for Neobux, therefore, your revenue will be increased.
After submitting 2$ you only need to rent the 10 referrals, this is very important remember there is many people online on Neobux all the time so Sunday is reserved for referral rent also daily two hours you need to do referral rent on Neobux with these two hours you can't do referral rent in these two hours you must do referral rent any time also you do monitoring these referrals to check out that which referral is good and active and which is not if any referral is not responding well mean in the four days there is no any click these recycle it paying 0.07$.
Doing this new user will come in your list to replace the old user when 30 days completes then rent the referral for 150 days more you get 20% extra.
Like this you manage the referrals and reach minimum 250 referrals. When you have 250 referrals than you monthly income it more than 200$.
Now your next step is to purchase Golden member ship only spend 90$ from you income and increase your monthly income twice in the months it means 400$
How to get payment?
From Neobux you can withdraw minimum 2$. Basically Neobux is support both online PayPal and Alertpay but unfortunately Neobux is not working in Pakistan that why we use Alertpay in the Pakistan.
According to Alertpay policy we can withdraw minimum 20$ also Alertpay shortly issuing the Debit Card in Pakistan.
There is only three ways for receiving money from Alertpay.
Through cheque.

Through back wire

Through Credit Card
Payment reached within 2 to 4 days in Pakistan into your bank account so you can take it using your ATM card.