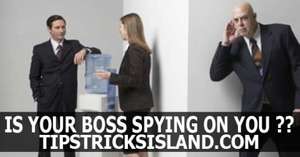 Is your boss spying on you? Some things to keep in mind
The CEO of a Christian publishing company earlier in the year had a meeting where he expressed his anger over rumours being spread about the company by someone from the inside and while the culprit was not found, he fired 25 employees.
The meeting was taped secretly by an employee and revealed that the computer activity of the employees had been monitored to figure out who was behind this scheme. He claimed to be fine with the other activities of the employees except their badmouthing the company.
Read:-  Mobile Spy To Ensure Safety Of Who You Love
Is your boss spying on you? Some things to keep in mind
It has now become very common for employers to be monitoring their employee's computers and phones while employees remain oblivious to this, using their breaks to check in on personal emails, going through Facebook photo albums and perhaps even looking at job listings elsewhere.
Thus, before doing anything too drastic on your work computer, it would be wise to think twice as to whether your activities are being monitored or not. Michael Robinson, a computer forensic expert and Ashkan Soltani, a security researcher provide some points to help understand whether or not you are being watched. Firstly, check your computer usage agreement and your employee handbook for any mention of your computer activity being monitored. If it's mentioned in there, they have the right to do so. But at the same time, they need to not take advantage of this right.
Monitoring done at the Firewall is difficult for the user to figure out. This method will simply tell the employer the websites that are being logged in to. However, to check more granular activity, monitoring software's would have to be installed in the computer itself.
A number of employees believe that websites offering https security would allow their communications to be encrypted ensuring security. While this can be possible if the monitoring is being conducted upstream, there are a number of methods which exist which can allow the company to see through this encryption as they are in control of the network.
Monitoring software's installed in the computer will gather screenshots and keystrokes. Thus any website that you log in to; its sessions can be reconstructed. While such programs don't show up as applications, they do show up as a running process.
A number of these programs which are used for the purposes of spying are tagged as malicious by a number of malware and anti-virus programs. Thus, companies which offer these software's have made white lists which allows the IT departments to make sure that anti-virus programs do not recognize these processes as malicious.
Since these lists are public, if you Google a process which seems strange to you and is considered to be spyware, it will lead you to the website of the vendor of that spyware. Some of these programs, however, are much better than others as they are able to hide better than others from view.
Check:- How to Protect Your Children Against Cyber Bullying
Employers are unlikely to be spending a great deal of time capturing everything their employees do. Monitoring what their employees are up to is probably what most of their times goes by in. this is more likely to occur when a boss feels that sensitive information of the company is going out or if he is worried about the behaviour of a specific employee.
While there are a number of methods through which your employer can spy on you, a lot of which are not detectable, it is wise to not make use of the work computer for anything too sensitive and to leave such information to be searched up on your home computer.
Thus, while there may be a number of ways in which accounts of employees are being monitored, it is the responsibility of the employee to know whether or not this is something he has agreed to as part of his contract. If not, and if you see that you are being monitored, it is absolutely alright to take up the topic with your superiors.