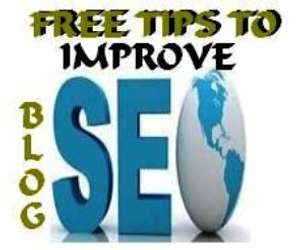 SEO Tips to Improve Your Blog Ranking
As we have already discussed in my previous posts about
latest Penguin Search Engine Optimization
, today also I have choose same topic, same topic but it has some
new tricks for Optimizing your Blog
as per Penguin Updates. Because I have personally checked it with my different Blogs and its show me great Optimization for 2013. It is for those who have created their websites but after bundle of hardworking they got nothing and closed their sites because the main problem is low traffic. So here I will tell you some tricks to get unique visitors of increasing your Blog rank with good traffic. 
How to SEO for Improve your Blog.
Now I will tell you such tricks to improve your Blog SEO you have to remember it and keep it in your mind for daily practice.
Recommended for You
Affecting Keywords 
Check keywords for you post by search latest Keyword Research tools. I recommended you
Google Keywords tools
because it will show you exact keyword's volume of searching per month and show you keyword ideas which are related to your post. and personally ensure that all keywords must be related to your post. Then main keywords on which you are writing you article its density is not more than 5% in you post.. means if your post is about 500 words so your main keywords is not used more than 20 times.
Optimize Your Blog Post. 
The main keyword must be in your title, because first of all search engine spiders check your tile and then use same keywords in the first paragraph but with different style as I have mentioned above that you must use keywords research tools to get how people search something using search engines. After that your Blog URL must be optimized with your article keywords means "www.yourdomainname.com/how-to-optizimize-blog.html" as you have seen I have use keywords of article in the Post URL. 
Meta Description 
This is the option which describes bots about your contents of post. You have to Search Keywords ideas by Keywords tools as I have mentioned above about
Google Adwords Keyword Tools
and don't use so many keywords maximum 150 letters and try to use 2 , 3 or maximum 4 words keywords for optimization your post. 
Alt Tag for Optimize Images of Post 
This topic I have already guide my all visitors deeply that how to use alt tag for image optimization. In Google Penguin update it is very necessary to tell spiders about you image what is you image about. For more check
how to Optimize Image with Alt Tag
. 
Don't Copy Contents from other Site. 
Huh… this is the one which I was do first time.. and what I got still I have 285 visitors in one years in same Blog. because I have copied content by searching internet and post those on my Blog. So its necessary your all articles must be unique and full with quality contents for Better SEO. So before sharing your post you must check plagiarism for duplication of your contents. 
Social Networking 
For any further assistance you can contact us by reply in comments or you my subcirbe us by following social media networks for stay connected with latest SEO and Tips Tricks.