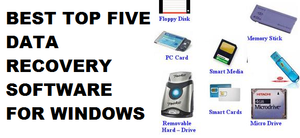 Top Five Best and Free Data Recovery Softwares
Time to Increase the serious of Free Softwares and Tips Tricks and this time I have choose a topic for Free Data Recovery Service and I know most of the peoples are not aware from hard drive Data Recovery tools or any Softwares like this and also they have never heard ever about any software from which they can recover and get back deleted, formatted or corrupted hard drive data from Hard Disk, memory card or flash external USB drive. Before, I have shared an article for How to Permanently Delete Files from Computer and that was for deletion of computer files permanently which never recovered from any software but its time to thank who have worked so hard and invented this wonderful tool for help us to recover and get the deleted, crushed, formatted and corrupted data back from Hard Disk, memory card or external flash USB drive. So, for the novice, I am going to inform them that there is so many paid and free tools and software for recovering deleted, damaged or formatted data back from Hard Disk partitions, memory card or Flash USB drive.
Read:- Repair Your Computer Errors with D7
Top Five Best and Free Data Recovery Softwares
I was talking about the data recovery tools and softwares above and its necessary to have these tool inside our system because sometimes its happened suddenly such important files, photos or any system file which is suddenly or accidentally deleted or may be your internal or external hard drive, flash drive or memory card formatted unexpectedly. For the mentioned unexpected accidents I am collect such wonderful information and tools from we can recover and get our deleted, damaged, formatted data back with free Data Recovery Softwares. Check below the best hard disk data recovery solution and Top Five and Free Data Recovery Softwares for all operating system platforms. So let's start.
Very powerful data recovery software by CGSecurity designed for help peoples to recovery accidentally formatted lost partition or data also making non-bootable disk to boot properly. With this powerful software you can fix partition table and recover deleted damaged or formatted partition of FAT32 and NTFS easily. As per software's official site it say its very easy to use for novice and also who know little about data recovery techniques. Its work in almost every operating system such as Windows XP, Seven, 2000, 98, (32 and 64bit) and Linux, MacOS X. Also you can download the complete tutorial is available on its Official Site.
As I have mentioned above this will work for recover your accidentally deleted files or formatted drive. I will not write more for any of the software just share such link for download this useful tool for data recovery service. This data recovery program will help you to recover music files, image files, video files from Hard Drive, memory card, mp3 players, external hard disk, digital camera, flash drives and memory card etc. This tool is also come with all windows platforms i.e. windows 7, Windows 8, XP, NT 98 etc. with 37 different languages. You can download this useful free data recovery tool from its official site here.
Read:- Spell Checker for Every Windows Application
Same as above this is another tool for Data recovery service for hard drive, flash disk, comes in free and paid version for all windows platforms i.e. Windows XP, 7, 8, 98 and 2000. it will help you recover accidentally deleted files such document files, photos, music files, video file from above mentioned devices. For more information and download this data recovery software please visits its official site here.
 As per its official name given by company its complete free tool for data recovery service upon hard drive, flash drive, external hard disk, memory card and other removable drives. For the novice and beginners this tool is very useful because it take few step to recover and get your deleted data back. Its support image files, audio video, document and other computer file to recover from crush or damaged partition. This is completely freeware for data recovery service. You can download data recovery solution tool from its official site here free.
Also Read :- View EDIT or Modify EXE Applications Files
In the bottom of this article, I have took another data recovery solution software which is also completely comes in free of cost and work in all windows platforms. This will help you to recover accidentally deleted, crushed or corrupted partition and all the above mentioned files easily from your hard drive, USB flash drive, External Hard Disk, memory. You can easily download this program from its official site.
Check :- Repair Windows XP without CD
Bottom Lines
For more information or feedback about the above free tool for data recovery you can ask by reply in this post. All the above tool are highly recommended for the data recovery service. Don't forget to like and subscribe our Social Media Community and RSS Feed. Regards.