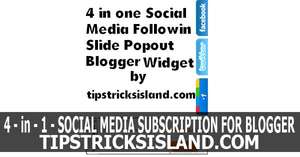 4 in 1 Social Media Following Slide Popout Widget
All I am sharing is about to getting Higher Page Rank and Getting More Website Traffic to our Blog and website. From last few days, I am every day bringing to you very useful Social Media Blogger widgets for my entire visitor for having great numbers of visitor on their site and Blog.
Every time I am sharing new ideas for getting higher rank in search results as we all working hard to become on the first page of Google or other search engines. So let's come on the topic, I am bringing a new 4 in 1 Facebook, Twitter, Google Plus Social Media Following Slide Popout Widget for Blogger with Email Subscription for telling your visitors to follow your Blog for getting such useful ideas or whatever you are posting on your Blog.
In this widget, your visitor would follow your page on Facebook and Twitter with Google Plus one button for the bookmark and Email Subscription Box for getting email alerts from your Blog.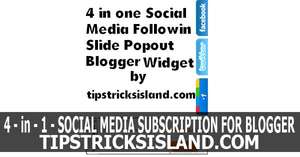 You may also like this
How to install 4 in 1 Social Media Following Slide Popout Widget
For installing this widget you need to install JQuery Script inside your Blogger, if you have already installed JQuery so skip this step otherwise insert following script before </head> tag
Now the second step. Fill the widget generator box as per your Facebook pages and Twitter Id as desired. Then click on the Generate Button.
Now you have to copy this generated code from text area.
Paste the same Blogger JavaScript/HTML Gadget
Save your template. And Check out your Blog's Home.
Check This Video Tutorial
Hope you all will like this widget. Don't forget to follow / like our page and also subscribe us to getting every new tips & tricks from RAZBlogs.