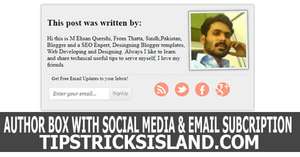 Blog Author Box Widget Below Every Post
Hope all of you enjoying Tips & Tricks and each plugin as well all useful information I have shared. Before I have shared a post about Email Subscription Box below every post but today another beautiful widget for my entire visitors.
In this post, I will guide you step by step how you can insert Blog Author Box Widget having social media subscription buttons for facebook twitter google plus as well as email subscribe below the every blogger post, as you have always seen almost every blogger has setup Author Box Below every post. Nowadays it is very necessary for Optimization of your blog/website that your blog must have Author Widget on the page.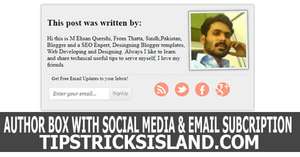 Check This >>
GENERATE TRAFFIC FROM OTHER BLOGS - New !!
How to Blog Author Box Widget below Every Post
I have work whole day to make this widget generator because you just put your data by replacing my links also customize colors as per you desire or whatever you want to write about you, write in the "Your Short Bio" Section and click on Generate Button it will automatically generate CSS and HTML Code.
Your code has been generated now go to Blogger .com >>
<div class='post-footer-line post-footer-line-1'>
Maybe you will find this code more than one time, so you have to try in every search, and paste Generated HTML code below this code
<div class='post-footer-line post-footer-line-1'> 
Save your template and check your blogger Post or you may check this Video Tutorial How to Install Author Widget Below Every Blogger Post.
Other Recommendations