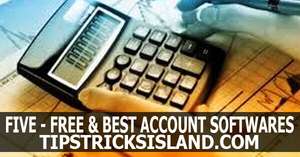 5 Free Best Accounting Softwares
As I have already informed you about hot topics on the internet and informed that Finance Accounting is one of them. So today I have decided to start sharing regarding Finance and Accounting.
This is my very first post about accounting in which I am going to share few Free Accounting Softwares like we all know accounting is base of every business and for better and quicker accounting we use some software but today I am going to share 5 Free Best accounting Softwares.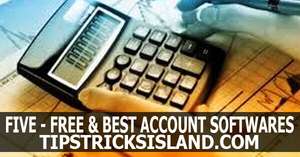 Check our Latest Tutorial for Microsoft Excel.. Click Here
5 Free Best Accounting Softwares
If you are a bit experienced you don't have to learn it more these are very easy to use.
Turbo Cash 5
This is the most usable application used by about a million of peoples around the world. You can download it from its official site. Click Here
You will find in this software all the accounting standard function, inventory control, invoicing, Cash Book, General Ledger, Balance Sheet, income statement with multiple user support also multiple organization. I think this is the great for beginners to learn about accounting and finance. Another thing is that TurboCash also offering an example book with the detailed manual which helps you to get started with TurboCash.
GnuCash
Another
Accounting
program which was released in 1998 and it is also very flexible
accounting system
and which is also freeware you can download it from its official website.
Click Here
It will help you to track stocks, bank accounts, expenses and income. You will find it very professional for accounting with guaranteed and accurate reports. Also for any assistance, you can download E-Book from its official website.
Express Invoice from NCH Softwares
The third one named Express Invoice, where you can make invoices, orders with your organization logo. Visit its official site to download it.
It will help you to manage and track billing easily through invoicing. And you can also fax or email bills directly by exporting invoice to PDF for faster payment. Another function which shows the complete performance of your business just like tracking your payment, monthly accounts, overdue if any and sales team performance.
PostBooks by xTuple
With complete usual
accounting features,
there is another tool named PostBooks with open
source business management
to control your entire business with one
accounting system.
In which you can make ledgers, payable and receivable amount, simple invoicing, and all accounts related functions. You can download it from it office website
Click here.
You can use this program for products inventory, manufacture or purchase, and create monthly performance report easily. This is complete freeware but you can upgrade it commercial use if you need advance usage. You can also download an ebook guide for its complete usage present on its official site.
Adminsoft Accounts
This one is developed by the
small business
owner to gift other small business mans. Because it is very easy to use for those don't know much about
accounting tools
and don't have account degrees. Download it from its official site
Click here
This will work in any operating system from Windows 98 to Windows 8 and Linux.
if you find this useful please don't forget to subscribe and follow our social media profiles..