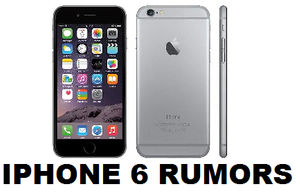 Apple's iPhone 6 rumors and expected features
Are you planning to spend money on a new smartphone? Just wait for a few months and get your hands on upcoming iPhone device. Rumors about the iPhone 6 are going on, and based on them, here is list of expected features in this upcoming smartphone.
Apple's iPhone 6 rumors and expected features
Design
Many smartphones offer quite lucrative features, but when it's about build quality, Apple tops the chart always. But, since Apple's rivals are taking the build quality part seriously, so to remain on top, Apple must bring more quality in the outer part of upcoming iPhone 6. As per the rumors, Apple iPhone 6 is likely to have smaller dimensions than the devices by its rivals, launching around its time. Wider bezels and 4.7-inches screen size is expected in iPhone 6.
Display
As per the rumors, Apple will be surprising in the display part by delivering 1704x960 pixel resolution in iPhone 6. This much screen resolution will help company please both the users and app developers.
Processor
Apple iPhone devices are known for delivering superb performance, and hence incredible gaming experience. The iPhone 6 is likely to beat its predecessor in this part, thanks to 20nm A8 chipset that Apple is likely to use in this smartphone. G for Games' report suggests that Apple has given the order of production to TSMC, so as to not face any problem in production volume. If the experts are to be believed, this A8 chipset will help Apple beat its rivals on performance chart, once again.
Camera
Apple's iPhones are quite famous among photography enthusiasts as well. If you are such person, then the recent report of China Post may take your smile. The report says that 8-megapixel iSight sensor is what Apple will be using in iPhone 6.
As per Apple's recent patent, a new mechanism called VCM OIS actuator module, would be used by company in camera of iPhone 6. Lytro-like capabilities in the camera are suggested by some other patent, filed recently, as well. With this technology, Apple will be looking forward to leave all camera-popular devices behind. If this happens, Apple will surely be enjoying the highest sales volume, and of course, highest profit ever.
Memory
Just like the other specs, nothing is confirmed about the memory so far. But yes, we have got rumors about this as well. If we take majority of rumors as something 'right', then expect iPhone 6 to come in 32GB and 64GB models. Yes, no 16GB variant, sorry guys. A few rumors suggest possibility of iPhone 6 128GB model too. Now that's insane, no?
Battery
Anywhere between 1,700mAh and 2,000mAh could be the rating of battery of iPhone 6, with the possibility of happening former is the most.
Release Date and Price
While there are some rumors of launch of this smartphone in next month, majority of rumors suggest the September 19 as the launch date of this new tech beast by Apple.
Sorry, nothing about the price is known so far. Chances are high that the launch price of iPhone 6 will be lower than that of its predecessor's.
Verdict
You must have enjoyed going through these rumored specs, but don't forget that they are rumors after all. Who knows you may see a totally different iPhone 6 than what it's being rumored? So, better is to just read these features, and not to take them as any sure thing.