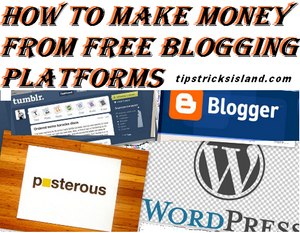 Best Ways to Make Money from Free Blogging Platforms
Hope you have read and like my previous articles about Best Free Blogging Platforms. If you don't have any resources to purchase custom domain you can create free Blog with yourblogname.domain.com and I think this is enough for starting a Blog for make money online below I will share some ideas for making money from free Blogging platforms where you can create your free domain. Below are the few names of top free Blogging platforms. Blogger.com WordPress.com Tumblr.com or you can search by Google because there is so many Websites who offer free Blogging with sub-domain service.
Related Articles:-
How to Make Money from Free Blogging Platforms
Making money from Blog is the great thing but all its need is such techniques, best in SEO, SEM, Social Media Connections, Semi Professional in Computer Languages or other related works to the internet. Below are such most useful techniques which will help you to make money from Free Blogging Platform.
By Selling Blogger Plugins
You can create your custom blogger Plugins just like widgets/gadgets and introduce that Plugins in online marketplace or create a free blog for your blogger Plugins review. If your work impresses your visitors so your hard work will be gain you some awesome money. All you can with great hardwork because there is thousands of Plugins for blogger which are completely free but a unique and well designed widget will help you to do something for you.
By Selling Blogger Templates
Same as above I have mention try to do something new and attractive so people forced themselves to purchase your themes. There are so many sites where you can find Premium Templates and also offer to submit your theme where you can sell your theme and make money by selling blogger templates. 
Share Tips & Tutorials
If you have great knowledge about any program or any other computer, internet related knowledge, create such lessons for that tutorials also try to create video tutorials and and easily upload on Video Hosting Website. Just like if you have good knowledge about Microsoft Office make complete tutorial whatever you know about it and then share two or three demo lessons on your blog and place note below the post for selling your complete package of tutorial and gain money by sharing your thoughts.
Write Paid Posts
This one I have seen most popular nowadays, because I am using so many Facebook groups and seen there is lot of people who are selling their post for earn money because sometime we are busy and cannot update our blog, it will affect our blog ranking. So we have to purchase paid posts and share on blog. If you have power to write quality content on any topic about 500 words you can easily make good money by writing paid posts. 
By Advertising on Your Blog
You can also advertise if you have good traffic on your blog. Below I have mentioned few top publisher networks for advertising on your blog from where you can earn money by adverting on your blog. Bidvertiser and Chitika are publisher networks which will place their ads on your site. Infolink is Text Ads networks
Bidvertiser and Chitika are publisher networks which will place their ads on your site. Infolinks is Text Ads networks If you have blog on blogger.com and have good quality contents with huge traffic you can also apply for Google Adsense and earn awesome money from Google Adsense Publishing Network. You can also share affiliate links on your blog.
It's not easy earn money easily all you have to do is hardworking. These above methods are very useful for those we have not their custom domain or cannot approach to purchase it. If you find this information useful must share with your friends and also give us feedback by replying in this post.