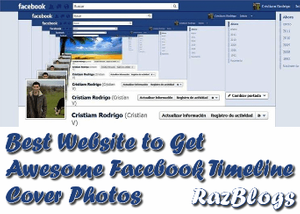 Best Website to Get Awesome Facebook Timeline Cover Photos
Worlds No.1 Social Media platform where we are spending almost more than 70% of our internet using time. For Facebook addicted, I have decided to give you some very useful links to get awesome Facebook Timeline Cover photos to impress your friends and family. All the link are provided below to download and set new timeline cover photos which are already setup as per width and height of timeline cover to make beautify and give attractive look to your Facebook profile and pages. You don't have to resize or any modification in this cover just download and setup on your profile.
Related:-
Best Website to Get Awesome Facebook Timeline Cover Photos
First of all I have mentioned MyCoverPoint because I like it very much, always I am getting cover for my pages and Facebook profile from this website because it has so many beautiful and category wise collection of cover photos for Facebook.
There you will find the complete directory of best Photos for your Facebook timeline and also a tool for create your custom photo to manage and resize it as per cover width and height.
Check New Facebook Chat Text Code Generator
The Site Canvas is also great website to create your own Facebook timeline cover photo with its builtin tool. Just select your img file and setup as per tool shown on the website.
As per my covers points, here you will find thousand of attractive covers for your Facebook timeline, Just download and setup on your profile.
At the bottom its time to give you the link with thousand of awesome photos for your Facebook timeline covers category wise i.e. Nature, Movies, Actress, Music, Graffiti etc. to amaze your friends.
Also Read:- How to Get Link of Facebook Status Updates
Bottom Lines:-
Still there is bundle of other website who offers free Facebook cover photos to create beautiful Facebook timeline. If you have any other information please share with us by replying in this post. Regards.