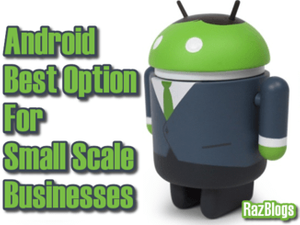 Android: Best Option For Small Scale Businesses
Intro:- Small businesses that are on the path of growth will need communication options for their staff. The following article discusses why you should use Android devices for small business communications.
Check:-Free Best Video Editing Software for Android Smartphones
Android: Best Option For Small Scale Businesses
For any company that is growing has to make important decisions that will affect their future. These decisions have to be made carefully otherwise it may pose fatal for your business. One of such decisions is choosing suitable devices for communication in your business. Many in the past have preferred Blackberry because it was a suitable option for enterprises. Nowadays businesses go for the iPhone because of the popularity of the device. So if you are a business that is making constant progress in your path then a better option for your business would be Android devices. Not many would fall for it but it is a great option.
It is true that Android is not totally a business platform but we cannot deny the fact that it would be a great option for small businesses. Android is gaining momentum and is slowly but surely becoming a market leader replacing iPhone on the top. Let's see at some of the reasons why you must use Android for small business communications.
Read:-Things to Know Before Building an Android Application
If you chose an iPhone it has only has so many options available. Half a dozen options are sometimes not good enough for us to do all our tasks. That is why you must choose Android, it's got many options in different brands, and so you have a variety of options when you have to choose a handset. It is best to choose a latest model Android phone that will serve your purposes and can be used to perform multiple activities.
Most people prefer using Gmail and you also have mobile versions on different platforms. But Gmail works best Android because both are products of Google. Many small businesses use Gmail for email service and so going for an Android device for communication between staff members is a great option.
If you compare iPhone to an Android device you will also find that Android is quite customizable compared to the iPhone. That is an added advantage of using Android. You can have your way with Android which is not very much possible with iPhone. You can have multiple home screens and create shortcuts the way you want it. So there are many customizable options with Android so for any small business it is an ideal option.
Near field Communications or better known as NFC has not been used by many platforms. iPhone certainly did not try to use it but Android phones have already started using it. Transferring files just on top of the phones against each other or transfer with a touch is some of the features of the NFC technology. This is a great option which will not available on many other phones on other platforms.
Android has a lot of integrated services that we can use. Most businesses need instant messaging and email services to communicate with each other. They might also use other services like Skype to interact with clients. For all such needs Android is a very good option. All these services are also available on other platforms but they are not as integrated as Android. So using Android any day is a very good choice. Android offers value for money and is is a great platform that can yield many advantages to the users.
Also Read:- Remotely Control Your PC through Android, SmartPhones or iOS
So all these points prove that Android devices are any time good for small businesses who want Smartphones for internal communication and other activities. Moreover Android will reveal more features and functionalities in the future and is considered to stay as a market leader for a long time. It is also an open platform which gives it the edge over the iPhone and Blackberry. So if you are a small business then go for Android devices.
 Similar Article:-5 Most Useful Android Application for Bloggers
Author Bio :
Hariot is a Android Apps Developer associated with a leading custom mobile application development company offering solutions for various mobile application platforms. She has a love for technology and always stays on top of the latest trends in the mobile application development industry, specially in Android Application Development.