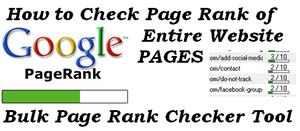 Check Page Rank of Entire Website Pages
Before I was not aware from this that every page has a different Page Rank but during visiting such site I have found that I saw before this before, it was Page Rank 2 but now why it's Just 4 or nothing, after that I have started to find out what is this? And finally got that every website page has different Page Rank and like me I know so many blogger webmasters don't know about it. If you are really unaware from this then you should check your complete blog or website pages ranks in just a single program. Today I am going to share a very wonderful and useful tool for saving our precious time means with this tool you can easily check Google Page Rank of your entire pages of website or blog.
Read:- Page Rank and Its Usage
How to Check Page Rank of Entire Website Pages
I have also found such other program for this purpose but unfortunately I have delete those programs because those program not fulfill my requirement but what I got is PaRaMeter. This is the tool for which I am talking from beginning  a completely Free Google Page Rank Checking Tool and complete freeware you can easily check free  bulk posts page ranks with just a few clicks.
Download PaRaMeter from their Office Site
More info for this useful tool you can find on the above mentioned link. Below is the guide for checking bulk posts page rank at once.
Run the Program >> Click on Tools >> Extract URL
Insert you domain address and click the Run button it will take few minutes to get entire information posts links from your blog or website when its complete click on the save button as per instruction shown below the screenshot
Now after saving result click on the Run Button it will start its process for getting actual PR of entire pages of your site or blog.
You can change the setting from depth 1 to 3 for depth links inside your blog or website.
Read :- Ways to Increase Alexa Ranking
Bottom Lines
Hope you have all understood this useful tool and complete my guide. Now you can easily check Page Rank of your complete website in one time with this Bulk PageRank Checker Tool. Feel free to ask any other query by replying in this post. Follow our Social media below mentioned in the Author Status.