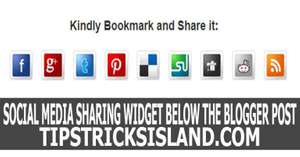 Social Popup Widget with Email Subscription For WordPress
After Sharing of such beautiful and SEO friendly widgets for blogger, today it's my first widget for wordpress. Its not my creation I have discovered it for my blog but for better provision to my entire visitors I have modified this widget with Email Subscription below the Social Media Like and Follow buttons. Before I have also shared so many widget for blogger.com you should check in the category of widget. This widget will force your visitors to follow your blog via Facebook, Twitter and Google Plus and after modification you can insert Email Subscription widget below the follow buttons.
Check out More Widget:- 
How to Install Social Media Popup Widget For WordPress
As I have mentioned above this is not my creation I have just modified and integrated it Email Subscription so first of install or download this widget from WordPress Plugin Directory.
Click here to Download it from WordPress Plugin Directory.
Install it in unzip the folder and install it in /wp-content/plugins/' or you may search it In plugin section and click on install to direct install it inside your blog. Check below screenshot.
How to Customize Social Media Popup Widget For WordPress
For customization you can check the installation tab on the installation page or you may check the following screenshot for and fill all the fields as per widgets requirement.
Save it and checkout your blog homepage.
You will find there is a Popup Social media Widget now what I have done.
How Add Email Subscription in Social Media Popup Widget
Check above screenshot if you want this widget like this. Follow the give given below instructions.
copy the given below code and Go to Social Popup Section >> Styling >> and Paste the Code as per Screenshot shown below.
Now check your homepage you will find new Social PoPup Widget with Email Subscription.
Also Check This:- TTI Bio Author Box with Hover Social Media Subscription
Bottom Lines
Feel free to ask any further query, Keep Enjoying TipTircksIsland.Com, waiting for your positive feedback. Follow Our Social Media Networks for always uptodate with RazBlogs