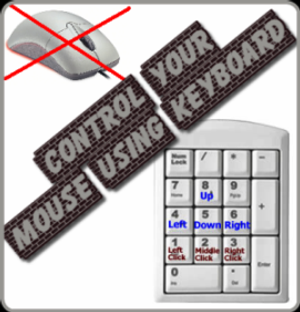 Control Your Mouse Using Keyboard in Windows XP & 7
Not a big trick but it comes into the mind in case of our computer mouse not working for us that is why decided again to insert a trick for computer to inform my visitors when we lose control of mouse over the computer what we should do and how we gain control again over mouse using our keyboard. If you explore the operating system you will there are bundles of accessibility options to make its usage easier and save our time by applying that wonderful methods and one of them I want to discuss here and hope that is very helpful to work for you as alternate of your mouse device.
Related Topic for Computer Tips:-
How to Control Your Mouse Using Keyboard in Windows 7
Check the trick for using the mouse pointer through keyboard in windows 7. the complete and step by step tutorial to guide you how can you enable his accessibility option in windows 7 for use and access mouse pointer via keyboard.
You have to go for Ease Access center from Control panel in Windows seven and click on the "Make the mouse easier to use"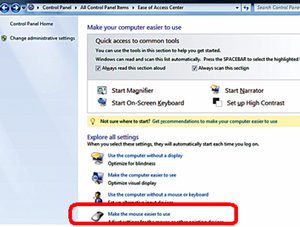 Another window and screen will appear inform of you
Now you find there option to setup keyboard for using mouse.
Now check on "Turn On Mouse Key" and setup the speed and acceleration as you want.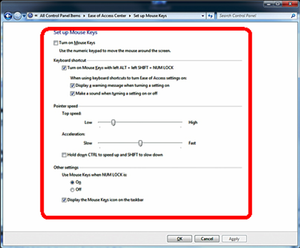 The Number Pad of your keyboard is now your mouse pad
Num Pad 4 = Left
Num Pad 6 = Right
Num Pad 8 = Up
Num Pad 2 = Down
Num Pad 5 = Left Mouse Click
Num Pad + = Double Click
Num Pad – = Right Click
Check below the same trick for using mouse from keyboard in Windows XP
Read:- Top Five Best and Free Data Recovery Softwares
How to Control Your Mouse Using Keyboard in Windows XP
I think the discussion for the windows 7 is almost finished now I am going to start same for windows XP. The same you may also apply in windows xp. Check the give below guide to enable mouse features in keyboard and control mouse using keyboard.
Simply go to Control Panel and Click on the Accessibility Options.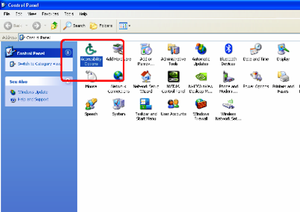 Now go to Mouse Tab and Check on Use Mouse Key then click on the setting button for configuration as per your requirement then click on the Ok Button and Again OK.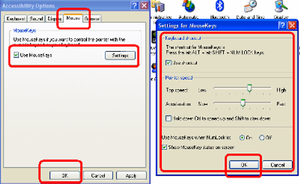 Controllers are same which I have mentioned above for Windows7 you can use as Number Pad as your mouse.
Also Read :- How to Create Bootable USB Drive
Bottom Lines
You must setting for controlling the mouse curser from keyboard because mouse acceleration and speed is different then you use it from keyboard so after applying the above method your must setup proper setting. For any further assistance you can ask by replying in this Post. Regards.