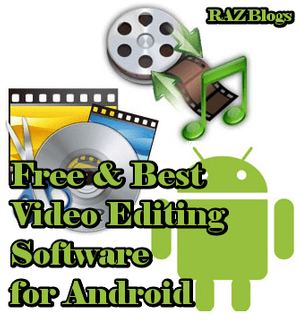 Free Best Video Editing Software for Android Smartphones
Its so many days I have not shared any post about Android or Smartphones but this day I have choose a topic in which you will notified with few best and free video editing software for android and Smartphones. As we all aware that internet is full of thousands of applications which done similar jobs but always we find tools with having best quality in its work. The videos editing lovers will get the advantage of this article because I have listed below some of very useful and valuable tools for your android Smartphone with lot of best features to directly edit videos from your android, Smartphones and tablets.
Related:-
Free Best Video Editing Software for Android Smartphones
Check out the great apps with amazing video editing effects for your android smartphones and tables for the above mentioned purpose.
One of the best video editing software for android phone having lot of great features such as split several videos into one, video effects (fade in, fade out, negative, gray tone) , video frames, you can change background music, you can create slideshow from images means this the must have android application for android phones.
Another must have android app for the video editing having so many great features. You can covert your videos into image by using this android app, edit movie and make them beautiful look with own background music and new attractive graphics in few seconds.
Read :- Things to Know Before Building an Android Application
HighlightCam Social :-
You can read all about the above app on its official page by click on the above link. Few lines I will add here about it. It has so many themes to beautify your video, edit your videos and share directly on best social media sites i.e. facebook, twitter, youtube as well as you can send same in MMS clips.
Viddy :-
As per its simple name, the app is also very simple and easy to use but it has so many best features. Make you video beautify with builtin effects and create every day new personal movie and share between your family through social media platforms.
Check:- The real value of mobile optimized content
Want to experience like creative android user? You must have installed this app in your Smartphones for amazing video editing. The most recommended app for your android Smartphones with so many different effects to capture new type for videos such as cartoon, ghost, cinematic etc. For more check the above link to read extra about this useful app.
Also Read:- How to Build a Mobile Friendly Website?
Bottom Lines:-
All the above apps having almost same feature which will help you to make creative and attractive videos through your android Smartphones and tablets. Having any issue about the above mentioned apps? You can ask by replying in this post. Don't forget to Join our Social media Profiles and RSS Subscription. Regards.