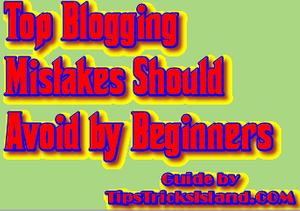 Social Media Mistakes by New Bloggers
Hope the entire fans and visitors of my blogs will be fine at time of reading this article :). This day means today I have choose a topic regarding to social media and most of tips are for new bloggers. Social media website and platforms are playing great role to make ourselves and our Blog more popular and its very necessary to engage all our sites with social media websites. Today I have decided to present few lines for social media mistakes which should be avoided by most novice and beginners. Its very important to connect with social sites to bring more traffic to our and increasing such a traffic and website ranking by sharing links within social media audience but beside there is some wrong steps done by new Blogger to be avoided and keep away from them.
Social Media Related:-
What type of Social Media Mistakes Should be Avoided
All the thoughts shared below is personally experienced by me because once I was also beginner so choosing this topic is for information to new Blogger should avoid such mistakes which may affect the audience and traffic rank to your site. So take a quick look to some biggest mistakes among social media platform done by beginners.
Always Online :- deal social media as per job like give social media proper time and don't online whole day like freeperson. 
Social Media Widgets:- Add Social Media Subscription and Follow Widget to your Blog to connect visitors with your blog.
Wall Spamming  :- Avoid unnecessary spamming posts or such application auto post which bore.
Share You Contents:- After publishing your article, must share on social media site.
Stop Sharing Own Contents Only:- if you want to publish your contents between your friends of friends, you must share the contents of other Blogger inside your circle.
Grammer & Misspelling :- Before publishing your article must grammer and spelling of your complete article.
Avoid Talking about Yourself :- Its good to be the best but whatever you are doesn't matter, you contents must be better than you and this the matter for your visitors.
Share Inspirational Topics :- Whatever you shared amongst your friends its must be inspirational and motivational otherwise leave it don't share.
Stay upto date:- Always update you social media streaming wall with new topic to encourage audience to visit your Blog.
Social Profile :- Your profile must be the to reach your Blog for new profile visitors. Add your Blog link to your description section.
You may also like to Read This :
Bottom Lines are :-
Mentioned above some common mistakes done by new Blogger that affects your Blog ranking and your social profile on the Blogging platform. Do you want to create quality? So you have to active on the social media networks because these days social media is the platform where you can grow and increase traffic for your Blog and go step up for your successful Blogging career.