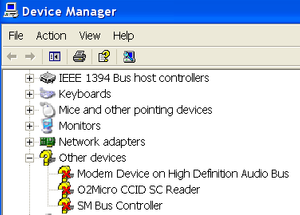 How to Install Unidentified Device Drivers (TUTORIAL)
This is the major problem after installing windows in PC, when you finished installing windows you seen your video drivers or sound driver or other else drivers are not installed by Windows and you have to install it manually. But after lot of searching for undefined device drivers, you can't find drivers. Nowadays, I have seen a CD named Universal Drivers and challenge for providing all unknown device drivers but I have seen it failed to do its job. I am not blaming on that CD that won't work, its working but not for everyone. So today it's just come in my mind that I must share this useful information with my visitors, how can we install unknown unidentified Device Drivers? 
This trick will let you search device drivers easily in few steps. But for this trick you must have an active internet connection. If you don't have you must have to use from somewhere else to find and download drivers. So let's start how to find unknown device drivers. Check following given steps
Check This>> How to Browse Internet in Full Speed
How To Find Unknown Device Drivers
Right Click on My Computer > Properties > Hardware Tab
Now Click on Device Manager, a new window will appear with the name of Device Manger check if there is any unknown hardware in Others Device
Right click and Go to Properties 
Now go to Details Tab and Set Popup in Hardware Ids
It will show you complete detail of your hardware and Vendor ID.
HDAUDIOFUNC_02&VEN_14F1&DEV_2C06&SUBSYS_14F1000F
As you seen in above image.
Now second step for how to identify its drivers by its Device or Vender ID.
Simply go to https://devicehunt.com/
Now you have to put you Device ID or Vendor ID in this website for identifying Device
It will show you result of you device and you must confirm that is it matching with your hardware or not.
Now copy the search result and simply Google it and you will find its drivers easily.
Any further assistance reply in comments I will try to help you more about it.
How to Protect Your PC from Attacks 
Don't Forget to Follow us to be connected daily newsletters and latest tips tricks about blogging and PC. Follow us this following Networks.