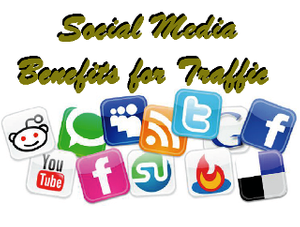 Social Media Benefits for Traffic
I have shared Few Social Media Sharing Widget and a trick about Auto Post Sharing to multiple Social Media Website, because sharing our post to Social Media is generate traffic for us from our circle. However fans friends or follower we have, our post will automatically appeared on their walls. As we have already discussed about it and its also observed the most number of peoples almost come on internet to use their social media accounts. Now, its come in my mind we should discuss about how can we benefits from Social Media Traffic.
You will also like this >> Make Free High Quality Backlinks For Better SEO
Introduction of Product: 
If you have an internet Market Place and you have signup for an affiliated account. Started making Blog for your brand it will allow you to expose your brands and we all know about Facebook, it has countless pages and groups where every time billions of users are online. Then your product will be infront of the world quickly.
Market Research: 
Always stay connected with hot products what people want to see and what are they talking about. Always pay attention about your visitors what they are saying about product. It will create a sense for you about what people wants and what you are sharing.
Search Ranking 
When you start share your product Social Media, it will also help you to increase product search ranking, as you have seen Facebook is has No.1 Traffic rank as per Alexa Ranking , and when you search some tricks on Google, sometimes Google show you some result from Youtube, that's it. You will product will be more Searched through Social Media Sites.
Loyalty between Fans and Followers: 
It means try to make some type of friendship with you visitors to come every day and stay connected with you, they think they are coming to meet with you not for Blog.
Special Recommendation >> Page Rank and its Usage
Some Extra
Still behind so many others benefits for sharing your post on Social Media Sites, try to become more focused on Social Media for driving More Traffic to your Blog. You have also seen ProBloggers has Millions of Fans in their circle. So don't lose this. Also I suggest you to be connected with me on the following mentioned networks to get daily updates.