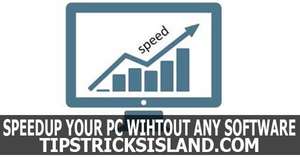 How to Speedup Your Computer Without Software
I am sharing this trick for a slow computer who can make their computer performance fast by making such hanging. As I have found that some people using programs to boost computer performance but today we will learn how we can speed up our system without any program or software.
Read others tips and tricks related to Computer:-
Speedup and Boost Your Windows Without any Software Program
Here are such steps.
Disable Such Unused Hardware.
Start Menu > Control Panel
System > Hardware Tab >
Device Manager >
In that window, you will find all Hardwares which are installed in your system now find there is such hardware which is not in use you can disable as per shown in Image above.
Boot Defragmenter 
This is the built-in tool for windows. It will make your all system files next to each other make them boot properly as such make your computer to boot faster.
Go to Control Panel > Administrative Tools
Computer Management > Disk Defragmenter > Analyse
If you want to see that your boot defragmenter is Enabled or not follow following steps.
Start Menu > Run > Regedit (type) as shown in image below
All the information related to computer boost is very much useful for every one of you and your friends, please share this trick with your friends. Follow our social media pages to get quick updates.