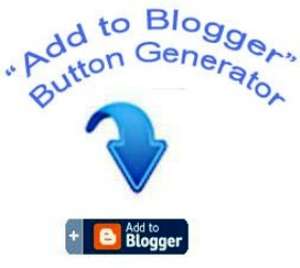 Make Your Own Add to Blogger Button
Another very
useful Blogger trick,
in which I will share with you how you can make your own
Add to Blogger button
for
installing any widget to Blogspot Blog
because it may be need for any Blogger who sharing most useful
Social Media Bookmarking widgets
with their coming visitors. I am sharing because I have seen some new Bloggers don't know how to install widget but what I am sharing it will quickly install widget to Blog.
How to Create Add to Blogger Button. ..
Step 1 - First of all you must you choose a picture for your Widget which will be shown on the installation page. See this image below  
and title for here 
You have selected an image for your widget which will shown on Page Element.
Go to this given below link
Add to Blogger Button Generator
There you will find a form as shown in below image 
Just insert widget content as per shown in picture and click anywhere and copy another code which has generated has past it in the HTML Post editor in Blogger. You will find there is button of Add to Blogger in you post as per image shown below
And Enjoy..
Any further information you can ask by commenting also follow us to be connected on the following networks