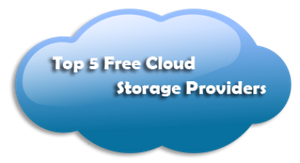 5 Free Cloud Storage Providers
Just before 2 days I have show you
few tricks for Google Drive
, but forget to share about
Cloud Storage
. So, first of all I must tell you
what is Cloud Storage,
it is Online Network Storage System where you can Store Your Data on multiple virtual servers, and access from wherever you want with active internet connection. This is hosted by third party companies who has large data centers and offer people to keep data on their servers with full privacy support. In here I want to share with you some
cloud storage
companies who offer you from 2 to 10 GB
Free storage
from everywhere with active internet connection.
SugarSync allow you 5 GB Free Data Storage with just a signup, where you can sync any file or folder from any by selecting sync. It will work automatically in background. Also allow mobile access with any extra charges with mobile apps for iPad, Blackberry Symbian or Android. You don't have to feel tens about privacy. Your data will be secured. It allows 128-bit AES Keys. As much as you want to extend your storage you buy more storage as per plans mentioned on the websites.
Symform also offer you Free Cloud Data Storage but more than SygarSync, it will present you Free Data Storage up to 10GB. You just have to download Symform Application and you will receive free 10 GB of Free Cloud. There is another system of contribution of storage, in which whatever you contribute you will get one half of contribution free. Another thing it allow 256-bit AES Keys.
The most popular Free Cloud Service which is affiliated with Google and offer you upto 5 GB Free Storage you can access it from all devices. As I have informed you before you can access your stored filed from anywhere with active internet connection. You can upgrade you storage up to 25GB in just $2.49 per month. You can access it via iPhone and iPad also.
Microsoft has also introduced a Free Cloud Storage with the name of SkyDrive which offer you upto 7GB data hosting storage and the good news is that it has completely designed as Windows 8 interface. You can use it via your mobile phone and Tables iOs Windows Phone or Android and all app are available on their official site.
Like all above tech companies, Apple has also launch Cloud Storage named iCloud which will allow us to upto 5GB Free Data Storage where you can save your Photos, Videos as well as you can save your web browsing tabs. There is minimum 128 bit AES encryption for iCloud. 
Recommended for You : How to Search Exact File Type in Google
Still behind, there is also few more companies which offers Free Cloud Storage, but data collection is not completed soon I will share difference between all above Cloud Storage. So must be Stay Connected with us Like us on Facebook, Follow us on Twitter, Google+ or Subscribe for Daily Updates.