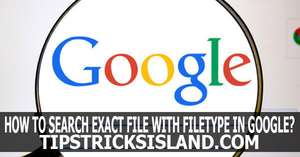 How to Search Exact File Type in Google
You often tried to search something very needed on the Google but being tired of getting nothing that you were looking for, same also happened to me so many times, I was searching an ebook on the internet but unfortunately not reached over my desires.
Finally, I got a trick to search any file on google with its filetype option to get easily anything which you looking and searching for.
Read:-
How can we search exact file type in Google?
Here is trick maybe everybody's need and want it. Today its become in my mind to share with my all visitors it will help you to search exact file type via Google such as if you want to search a PDF file you can easily search any PDF file in Google just type the required name in "PDFILENAME" filetype:PDF. It will take you to your required file if it is available on the internet. See this screenshot
Good Luck. For future updates please follow our social media pages.