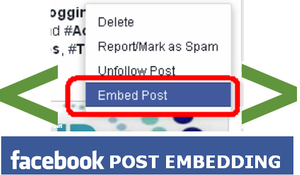 Now Share Your Facebook Post in Blogs by Post Embedding
The fastest endlessly growing and the number one social media network over the internet means this topic has been chosen for Facebook and has introduces a new way to share and extend your voice and thoughts which you have already shared on Facebook. Before we always seen embedding codes for videos, computer languages etc. but now you can easily share your every Facebook status and posts on your Blog by embed that status in your Blog or website. Means if have shared videos, photos or any status update you can easily embed it anywhere as you want. Check the guide to embed any Facebook post inside your Blog or website.
Related:-
How to Embed Facebook Post
For embedding any Facebook post you have to set the privacy on public and share any photo , video or any update on Facebook and click on the dropdown arrow in upper right corner of the post for embedding facebook status post as per screenshot showing below.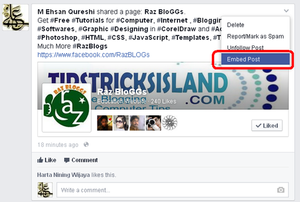 And copy the code from the top text area box.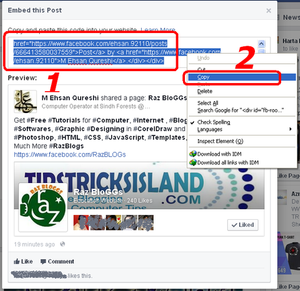 Now paste this Embedded Facebook Post code inside your Blog or website post in HTML.
Check:- How to Get Link of Facebook Status Updates
Bottom Lines
Hope above tutorial will help you to share your voice widely through websites and Blog. For further information you can ask by replying in this post. Don't forget to like and share this post with your friends. Like our Social Media Pages and RSS Subscription to get next update directly in your inbox or you wall. Regards.