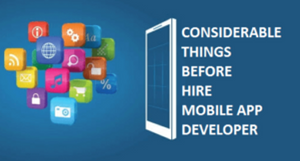 Things to Consider Before You Hire a Mobile App Developer
If your business still doesn't have an app yet, you could be missing out on a lot of significant opportunities. Apps can help your business earn revenue from a variety of sources. The modern consumer spends most of his/her life on a mobile device and that's where you need to be if you want to get his/her attention.
For example, in the United States, it has been estimated that 120 million smartphone users rely on an app for shopping purposes. They use the app to make purchases at least once in a month.
So, does that convince you about the importance of apps for business growth? Well, if it has, that's just the first step in the decision making process. The other step involves choosing someone who specializes in the area of mobile app development.
Things to Consider Before You Hire a Mobile App Developer
How do you go about that? Well, there are many things to be considered. So, when you do meet your developer, make sure you ask them these questions and more importantly, look for the right answers.
Can we see examples of apps being used in real world scenarios?
If you're dealing with a qualified developer, they'd be more than eager to share a list of their best apps with you, along with actual case studies of how the apps have helped other clients. Also, they'd be ready to show you their apps on app markets such as Apple's iOS App Store, Google's Android App Store OR Google Play etc.
This way you can get a rough idea of where the developer stands. You will get to know if they possess the knowledge, skills, and expertise to help you with your app strategy.
Can we take a look at a list of your old and current clients?
There's no real way to determine whether a developer has actually developed an app. That's why you will need to talk to the clients who have already worked with the developer you're currently considering. This will help you verify the facts and also, help you get feedback on the developer's work.
For example, you can find out about how they are in terms of meeting deadlines or how they respond to pressure etc.
The other thing to note here is that developers will provide only the names of clients they have a favorable relationship with. So, if you want to work your way around this, you might have to get a little creative. For starters, you can try visiting the developer's profile on LinkedIn and hunt for mutual connections who have worked with the developer before.
You can then ask the mutual connection about how their experience was with the developer.
What mobile device do you use?
This might seem like an irrelevant question, but, in actuality, it's a great way to get to know your potential developer. When faced with such a question, a reliable developer will respond with passion. They will also possess the right knowledge about the platform they are working on. To put it simply, if your developer builds apps for iOS, then he/she must have an iPhone. This indicates that they take their specialization very seriously and that they are constantly experimenting with the platform.
The same principle should be applied to developers who work on other platforms.
How can your app help the business?
If your primary objective is to generate revenue, then the developer you're dealing with should be able to actually narrow down on all the details concerning revenue generations. They should be able to tell you how the app can make you money and what features are best suited for revenue generation. For example, they should be able to present you with a revenue model that works for your business.
Similarly, your developer must be able to make a case for how they will meet any of your objectives, be it revenue generation or customer engagement.
How can we communicate?
Communication between developer and client during the process is of the utmost importance. In fact, it determines the quality of the final product. As a client, you are bound to have a lot of feedback and preferences regarding design and functionality.
So, the easier it is to communicate, the better your app will turn out to be.
Make sure your developer is willing to be in touch with you at all times Find out how they like to stay in touch. Does Skype or phone work for the both of you? Will the developer provide you with regular updates? Do they use a task management system to interact with clients? These are some of the questions that need to be asked as well.