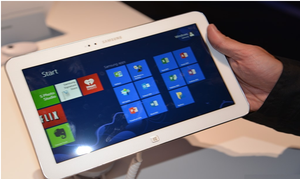 Review on Samsung Ativ Tab 3
Pros:
Full-sized USB port
Light weight
Bright display
Built-in speakers
Realistic color
Dual core processor
Lots of RAM
Cons:
Build quality is not so good
Serious shortage of apps
Limited accessories
Low pixel density screen
The camera lacks autofocus
Apart from a new range of computers, tablets and laptops, Samsung has launched the Ativ Tab 3. There is nothing too much exciting about this device, but if you looking for portable windows 8 tablet, then it's a perfect choice. It is the thinnest Windows 8 tablet with 8.2 mm thickness. It features plastic body of 10.1-inch.
Design:
It has the same design as the Samsung Galaxy Note 8.0. It is nicely curved, plastic build and very comfortable to carry. Its weight is just about 550 g and its look is nice enough. It is furnished in the white plastic shell and the back remains plain white.
Screen:
The screen of the Samsung ATIV Tab 3 is indeed a strong addition as it is bright and responsive. It features a 1,366×768 pixel resolution extended across its 10.1-inch form.
Performance:
The performance of the Samsung ATIV TAB 3 checks off all the boxes needed to make a satisfying tablet. The integrated camera in this device is another great addition. It has a capacity to operate continuously for around 10 hours. It includes an Intel Atom Z2760 and RAM of 2 GB. It has the capability to shoot 720p HD video.