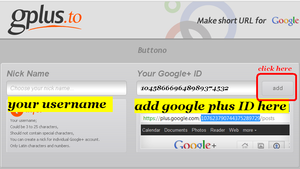 Setup Username for Your Google Plus Profile URL
The new growing Social Media Network from Google. Before we have talked lot about social media tips and increasing the traffic through social media websites and benefits which I know, but this time I am going to share a trick for the Google Plus lovers. I know and its must be that we all Bloggers are using almost total biggest social media website for growing our online business and getting visits reviews for our site and Blog. So in this post I will guide for how to give a unique username to your Google Plus profile and setup a URL for your profile. Checkout below tutorial for get rid from vanity google plus url and setup custom username on Google Plus Profile URL.
Related:- Analyzing Tools to become Social media Expert
How to Setup Username for Your Google Plus Profile URL
All about the topic, I have discussed above now its time to do. So check below guide for give a unique username and vanity from google plus profile URL.
Copy Your Google Plus Profile its look like below
https://plus.google.com/104586669648989374532
And here is the link go to gplus.to and check the give below screenshot
Your new URL for Google Plus Profile will be gplus.to/your-username
Read:-  Google Plus Follower Gadget for Blogger to Increase Audience
So Enjoy and Share your New Google Plus Profile URL with your friends. Don't for to Subscribe RSS and Follow us Via Social Media Profiles… Regards