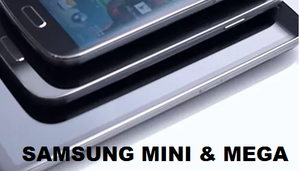 When Mini and Mega clashed
The mobile giant Samsung has enveloped the entire world with its class products leaving no room of its peer to trespass. After emerging as the one of the profound manufacturer of the world's powerful Smartphone, now the company is sticking to its budgeted range of mobile phones to cheese is customers. The company has introduced two more siblings in its ongoing Galaxy series of Smartphones namely, Samsung Galaxy Mega and Samsung Galaxy S4 Mini. Taking up the entire Android market with absolute ease, the company is still not willing to stop and is consistently growing on and on in almost every sphere.
Let us have a quick look over both new members in the Samsung family.
Samsung Galaxy Mega
You might have heard about the monsters and beasts in your past and they don't exist now. True! But over here an equally beastly Smartphone is designed to pack all the mighty features in a compact size. The 6.3 incher Galaxy Mega is a woolly mammoth of a handset that is undoubtedly only one of its kinds in the Android 4.2.2 Jelly Bean OS category. Getting more into the details will land us onto a new horizon where we can actually make out what this particular handset is all about. So why wait?
The Smartphone is bolted with massive 6.3 inches Super Clear LCD Capacitive touch screen display having 16 Million color dots set at 720 x 1280 pixels (233 PPI) resolution. This undoubtedly promises rich color output with cutting edge clarity. Perhaps, it offers everything on a silver platter! Despite of the monster sized display screen, the handset is just 8 mm thick which is simply remarkable, whereas the broad display simply loves. Apart from this, the absolute power of packs Dual-core 1.7 GHz Cortex-A15 processor along with 1.5 GB RAM touches the perfection with sheer ease. Thus, multitasking and handling multitude application run in one single go is no more alien. Capturing the most precious moments of your life has always been a cry for one and all. Of course, the phone comes bolted with brilliant 8 Megapixels rear snapper which is partnered with sharp 1.9 Megapixels front snapper that empowers distortion free video calling in vivid clarity. Plus, piling up the multimedia contents is as easy as child's play. Featuring 8 GB of built in space which can be amplified up to gigantic 64 GB via external flash makes it possible for you to store anything, simply anything.
Now after having a whole eye upon the key specs of this Smartphone, if you're thinking about its price tag being aggressive then I completely buy your point. The Samsung Galaxy Mega 6.3 I9200 reviews might encourage you to make a pick but if you have a restricted budget then no wonder it might hold you back also.
Samsung Galaxy S4 Mini
Samsung Galaxy S4 has played its own legacy of sorts and has become an apple of everyone's eye in no time. Hoping to strike the same chord again but at a budgeted price, the company has showed up with the successor of SGS4- the Galaxy S4 Mini. The company has been continuously hosting the expansive array of Smartphones one after the other. No matter whether it makes up to the expectations or not, Samsung is still the uncrowned king of the Android market.
The slated design of S4 features 1.7 GHz dual core processor which is intelligently coupled with dexterous 1.5 GB of RAM. Hence having a hold onto the multitude application is pretty easy and relishing a lag free performance is now on your fingertips. The Mini's 4.3 inches Super AMOLED capacitive touch screen display having 16 Million color dots set at 540 x 960 pixels (256 PPI) makes it a pretty good performer. Relishing the joy of clicking the photographs with its superb 8 Megapixels is something to shout about and the front embedded 1.9 Megapixels snapper offers smearing video calling experience.
Piling up the multimedia contents in its massive built in 8 GB of built in storage makes absolute sense. Plus, you can amplify the built in memory up to 32 GB via external flash mount for an additional space allocation. Talking about the Samsung Galaxy S4 Mini Duos I9192 reviews, the Smartphone has emerged as a true performer in term of its salient prolific features and mind blowing specifications. However, the tremendous features and specifications that it envelopes in itself earns some extra kudos for the company.
Author Bio:- Achilla Singh is a well known author and has written articles, online shopping mall, Samsung Galaxy Mega 6.3 I9200 reviews, online shopping mall, Samsung Galaxy S4 Mini Duos I9192 reviews, and many other subjects.