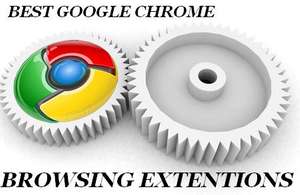 Best Google Chrome Extensions for Better Browsing
Few days before, I have shared an article for Best SEO Extensions for Google Chrome. Where you have seen some extension for Google Chrome Internet Browser for checking our Blog/Website SEO Score and must do Tasks for better SEO. Today this time I have few different Extension for Google Chromefrom which you can experienced better browsing with Google Chrome Browser because nowadays it has been observed that Google Chrome is the internet browser which is mostly used by every internet user. So check below if you want some better browsing experience with Google chrome.
Related Links:- Tricks for Google Custom Search with Different Result
Now don't go anywhere and search for any difficult word. Just in a second you will get complete definition of any word by Google with this great Google Dictionary Extension for Google Chrome. If you need the meaning of any word double click you will get Balloon Popup with Computer description or definition of any word or phrase. Its support eleven different languages i.e. English, Chinese, Italian, German, French, Russian Spanish etc. for more check the Extension Page.
Are you being sick from Popup Ads. Here is the solution and without any software or program. This the application /extension for Google Chrome for Blocking Unnecessary Popup ads while surfing internet and enjoy free and smooth internet browsing. After installation of this extension it will help you to block any every popup and show you notification on the right top corner. But you have to remember this such website are designed with Popup Login System so you must disable this extension for those site till you logon.
Another great Extension for graphics, images and photos lover. The free tool for having such fun with Photos images while browsing internet. This useful tool will help you to zoom and enlarge any photo you seeing just mouse hover on the image it will show you same in enlarge view.
Read :- Google Plus Follower Widget for Increase Visitor Audience 
Get all the biggest social media notification while browsing internet. The Notificator will provide you the notifications from Facebook, Twitter, Linkedin with status update and new tweet option. If you have some updates and want update new tweet you can update it without visiting twitter's website with just a click and you will. Get all linkedin and facebook notification on your browser.
Here in the bottom it's a very great tool for HD videos lovers and I like it very much. This is the extension for Youtube and it will auto adjust your videos setting to 1080P or whatever you set it from settings. Once you setup you setting it will auto play all youtube videos as per you saved setting.
Check This:- Watch Youtube From Desktop
Bottom Lines:-
Feel Free to ask any further assistance from us or send us feedback by replying in this post. As soon as possible you will get for any query also Follow our Social Media Ids or Subscribe Our RSS Feeds for get every update in your inbox.