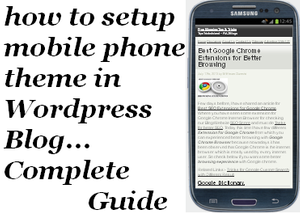 Setup Wodpress Blog Mobile Theme
Just now, I was browsing internet from my android phone and discovered that there is no 
mobile theme
 or version setup for my 
Wordpress Blog
and my Blog is opened in same regular theme as its shown in PC and it will 
take so much time to load 
from mobile from mobile phones. As 
blogger.com 
there is no auto 
setup for mobile version
 in own domain 
Wordpress Blog
. After searching such plugins to solve my issue I have found a very 
useful plugin for your Wordpress
mobile version from which users can easily surf your Wordpress blog without spending 
time in loading pages 
and wait until page load with PC regular view or may be they leave without hang around. So today in this post I will step by step guide you 
how to setup mobile version theme for your Wordpress blog
within few steps.
Related Posts:- Best Android Application for Blogging
Why Mobile Theme Version for Blog is important?
Yes it is very important to having mobile version theme in your Wordpress Blog, for understanding this question we have to go 15 years back and remember that before Mobile Companies was making phone smaller and slims but what is nowadays is mobile phones has changed their sizes from mobile phone to tablets, iPhones, Androids, windows mobiles means day by day mobile phone companies are making different operating systems with lot of functions and from that we can operate all over system which we are using from computers. That's means, computer and phones are doing same job and most of the people likes to have good mobile phone instead of computer or Laptops because if we get everything from mobile why we should use or have computer or laptop. I have also check the visitors of my sites and almost 30 to 40 % visitors was come on my Blog using mobile, iOs, tablets, iPhone, or other smartphones so we must have installed Mobile Theme in Our Blog. Check below guide for installing Mobile Theme in Your Wordpress Blog.
How to Setup Mobile Theme Version in Your Wordpress Blog.
As I have mentioned few importance of having mobile theme of Blog. After that here below the complete guide for installing Wordpress mobile theme. Follow the given below instructions.
Direct installation from Plugin.
Go to Plugin Section and Click on the Add New
Image now search for the "Wordpress Mobile Pack" and Click on the Search Button then Click on the Install button
You Plugin for Wordpress Mobile Theme has been installed now, click on the Active Plugin.
Go to appearance tab, there you will see three tab for mobile theme and setup any setting as you want or need for your Blog.
Checkout again your Blog from any mobile phone and make any changing as per your requirement from Mobile Theme, Mobile Widget.
If you want to download this it click here to download Wordpress Mobile Pack from Wordpress Plugin Directory.
Bottom Lines
I highly recommend you to must aetup mobile theme for your Blog or website for giving proper information to your visitors. For any further assistance or inquiry please send us by replying in this Post. Regards..