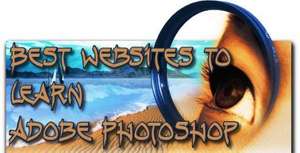 Best Websites to Learn Adobe Photoshop
My today's article is about a worth software for graphic designing, photo editing provided by Adobe company. All I am discussing about is Adobe Photoshop. Yes this is the best software I have ever seen for graphic designing, photo editing, painting, making 3d effect etc. but there is some confusion to know about all its features and tools, that is why such great people have created some best websites and tutorials to teach us about its features, tools, effects whatever it has. So here I present some best website to learn about Adobe Photoshop.
Read:- Making 3D Ball - Cristal Ball with Adobe Photoshop (Tutorial)
Best Websites to Learn Adobe Photoshop
If you want to be a master in Adobe Photoshop, the given below list of the Adobe Photoshop tutorial website will help you to do so. Because sometimes we feel, we have to make logo, or any modification in manipulation in photos to share it with your friends through social media networks or designing any photo for your website or blog. So here is the list of Website to learn Adobe Photoshop tutorials.
A website to teach you every step of Adobe Photoshop with easy way. You can learn each function and tool with step by step guide. There is the lot of videos for latest versions of Abobe Photoshop's new features. You can learn it easily.
Another website which presents lot tutorials and introduce Adobe Photoshop new featuresheck. You will learn here lot of thing about new interface and designing tools.
Get lot of tutorials to learn about designing and new effect for Photoshop. It provide the new type of designing tutorials in very depth to make you understand well.
A website with Step by Step Guide for adobe Photoshop tutorials with lot of free tools. You can download brushes effect for it.
Bonus +
Check :- Make Windows 8 Logo in Corel Draw
By visiting the above list of best tutorials website, you will be the master in Adobe Photoshop. If anything missed or you have more information about the subject you can notify us by the replying in this post.