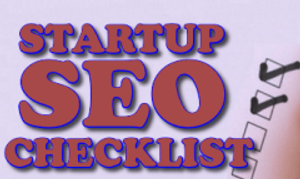 Startup SEO Checklist for New Blogging Niche
You must be recommended by someone to 
start your own blog
 but still don't know what basics are and 
how to drive good traffic to your blog
 from search engines or any 
tactic for search engine optimization
. In very startup or may be before it, there is lot of things you have to know 
what is blogging and how to start a blog
 and then how to optimize it for search engine. In this article I will guide 
my best techniques
 which I am applying for my newly launched websites over and over and find it 
solid SEO optimization in 2014
, because there is lot of changes introduced by Search Engines due to some bad techniques such spamming, cloaking, keyword stuffing etc. but 
proper SEO
strategy
 well ensure your visitors about your business or blog.
Startup SEO Checklist
It is not enough that just writing an article, but also you have to consider some startup techniques for your new blogging niche for well indexing your blog post in search engines and ensure peoples that it is what they are looking for. The Proper SEO Strategy will send visitors to your website for your products or whatever you are giving them from your niche instead of competitors. So following are the Best Startup SEO Checklist for your new Blogging Niche or Website.
Setup
Writing Techniques
Before writing on any topic or your targeted keyword, you must collect all the information about it by using some keyword research tools. That comes in both free and paid version. Google Keyword Planner is most recommended keyword research tool it will give you ideas for you keyword and show you popularity in all regions and countries. Now write valuable and quality contents which must be more than 500 words and ensure that not be found anywhere else.
Check :- How to Write a SEO Friendly Blog Post.
On-Page & Off-Page SEO
We have already published a complete article for On-Page and Off-Page SEO optimization techniques.
Select Unique Title for Your Article
Also select Good Meta description from your written article or write it.
Use third Party SEO Tools for Better SEO Score such as Yost SEO Plugin
Optimize Your Webpage URL and Use Targeted Keyword in URL
H1 tag must be used one time in a page with your targeted keyword, otherwise use additional headers h2 to h6.
Bold (strong), Underline, or italic your targeted keywords in article.
Use Alt Attribute for Every image you use in your blog.
Social Sharing is also most important tactic for SEO. Ask your visitors for liking and sharing your contents through social networks.
Check for 404 error and Redirect it 301 in Webmaster Tools.
Ensure Your site speed is compatible with SEO otherwise check it Google Pagespeed
Create Quality Backlinks
In you want to increase your presence over the internet and also it is better for SEO score, you need to start link building. Read Article over the internet you can leave comments with your blog link or by submission of guest posting you can create backlinks to your blog.
Create Blogger/Wordpress Widgets with Credit Link
Create Website/Blogger/Wordpress Template with Your Credit Link
 Submit Guest Posts
Leaving Helpful Comments to Other Blog with Your Link
 Join Discussion Forums
Read:-  Make Free High Quality Backlinks For Better SEO
Final Words
These are the basic SEO Startup Guide for your newly lunched blog. Still there is lot of factor remains which will be discussed earlier or if you have any other please mention it in comments. Always check webmaster tools to ensure all is going well or anything is broken. For further assistance I will wait for your Reply. Need Best Regards.