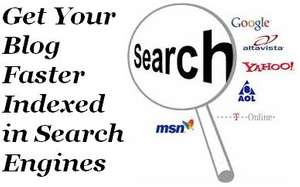 Get Your Blog Faster Indexed in Search Engines
In a day another topic for Blogging tip, just before I have shared an article for Blogger Blog for the Beautiful CSS Scroll Bar and this one is because few moments ago (at the time of writing this article) just received an anonymous email about how to get indexed faster in Search Engines means someone asking for tricks and tips for getting indexed faster in search engines for which we have to focus on some very useful things for that I am going to share below some very important lines for which will help us to indexing our Blog post index quickly and search engine i.e. Google, Yahoo Bing and other search engines robots will easily crawl and index our Blog. There are some points for your better guidance which will help you to get your complete Blog indexed faster in search engines.
Related Articles:-
How to Get Your Blog Faster Indexed in Search Engines
Follow Below tricks get your 
Blog indexed fast in search engines
. There is nothing new because time and again in every post related to 
Search Engine Optimization 
I have mentioned all the things for 
better Blogging 
but every time I have to share all with new ideas and easy to understand for 
beginners
.
Develop Dynamic Looking and Error Free Blog
First of all choose a 
SEO Friendly Platform for Blogging 
such as Blogger, WordPress, if you have custom domain I will highly recommend you to start 
Blogging from WordPress
 because there is so much great features which others don't have. Easy to install and 
optimize for Search Engines
, then Choose a SEO Friendly Template for your Blog and everything should be clean and clear just like your home. Like we always make clean our home you Blog is your home so its must be very clean, clear and error free, easy to understand so visitors will like to stay on your Blog and explore more than they need.
Contents Pages.
This is the thing where all you visitor come and get there desired material. So first of your entire page where you data has shared its must be easy to read and very clear justification with proper design. As I have seen such Blogger are try to 
overload 
there page with such type of ads for getting clicks. It will 
affect your Indexing
 so don't try to do this. Your page of content must be well designed 
looking SEO Friendly
easy to crawl for search engines 
robots spiders.
Unique and Good Quality Contents
What are you writing its must be good in quality and Unique means never published before. As I have mentioned before in my 
various SEO articles
 that some new Blogger try to 
copy material from other blogs
share, its not good because if this practice happened 
search engines robot
will not index your site. Further, also 
optimize your article images with alt tag 
so crawlers will understand what is your image about. Before publishing any article 
check if any duplication or plagiarism inside your article
.
Sitemap Submission
After following above publish your article and 
Submit the sitemap to search engines 
because this the way to inform search engines about your new article update. In one or two day search engine robots will confirm your submitted link and check.
Social Media Sharing
About 
Social Media Sharing Benefits
, I have also share an article hope you have read that one, this is the way to promote your newly published link from best 
social media 
networks, if your article has good contents and people are enjoying from what you have shared, you will get the result in the shape of 
Social Media sharing
response. Also try to 
install like and share button of social media 
website inside your Blog post so your visitors will give you single click feedback in the shape of like and share.
Bottom Lines
This is the complete guide for getting index fast in Search Engine. This is not only for one time but you have to revise this trick for every new post before publishing. For any further assistance ask by replying in this post. Regards.