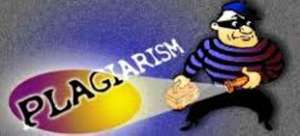 How to Check Plagiarism Duplicate Contents
In this post, I am going to suggest
beginners
about
copying contents from other website
is may be you think good but you don't know about Google, because Google is watching every moment and you cant hide your
stolen contents
from Google. Haha. Copying contents from other Blogs or Website will
affect your Blog rank and Blog's traffic
or may be someone report to DMCA (Digital Millennium Copyright Act). So here I am going to share with all my visitors about duplicate contents and how can we
check duplicate or Plagiarism contents
. 
You should also check this series>> 
Why we should check Plagiarism/Duplicate Contents
Because I have personally seen that bundles of Bloggers are copying contents from other sites and in result their Blogs are deleted due to copyright or may be they removed from search engines. Another bad thing is that you will not get any traffic for those copied or stolen contents as well as it will affect you Blog /Website SEO. Here I will share below few Plagiarism Checker Websites where you can find who has steal your contents or with whom your contents are matching after that you should change your it and make unique contents. So you may check duplicate contents and analyze your Blog post properly to get target traffic and become unique contents Blogger for getting huge traffic via search engines.
Top Plagiarism/Duplicate Contents Checkers 
Above I have share top five plagiarism checking website/tools which are most popular for their purpose of using as I have personally checked all above sites. These all website has Duplicate Contents Checker Tools which will give you accurate information about matching contents all over the web and these are very easy to use no need to make any tutorials regarding above site. You just have to put content or concerned URL for finding any duplication.
Another recommendation:-  
If you feel any further information or any information missed you can ask or suggest more by reply in this post also don't forget to follow & like us to be connected with new tips and tricks from us.