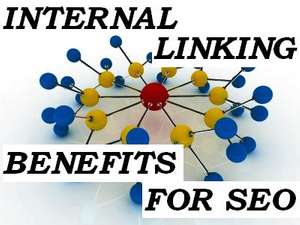 Internal Linking Benefits for Blog SEO
As all Bloggers and websites owners have to think about the planning to increase their site usage and importance for the search engines as well as readers. By providing regularly unique and original quality content to the coming visitors is must take blog position well in search engines and reach you in blogging purpose. But growing its importance is the important thing. As we all have are hearing news everyday about the algorithms of Google's Ranking which is going very hard to track every new day. Search Engine Optimization has already been altered its significance and procedure in last years. Now, we have to focus on retaining usability of our Blog/Website for defending it from losing its value in the ground of most important search engines. As I have posted before about making best quality backlinks to stand our blog out from the crowd. In here I am going to share such very useful techniques for increasing Blog's readership and importance for gaining trust of the search engines crawlers and as well as readers..  
What Is Internal Linking.
The method to link posts with another posts by such ways is the Internal Linking. it will increase Blog's or website usage with readers and make them easy to find relevant contents and help in Optimization Search Engine Ranking.
What are the Advantages of Internal Linking
There are so many benefits and advantages of internal linking for Search Engine Optimizations and I will share below here most important benefits.
Increase Readership
Linking with internal posts is the great technique to boost readership around the website or blog. If you have post with top quality internal links with appropriate use of anchor texts then it will feed your readers simply to follow your site from one post to another post. It means you are helping your readers to approach that place where they desire to go for collection of more information what they are looking for.
Increase Page Rank
Before I have already posted few words about Pagerank. Internal linking is another most excellent way to for increasing link reputation. It will exceed link juice from one post to another post in the links shape which look like a recommend to the linked post that will help to increase Google pagerank and well rank in search engines. By following this process, page rank stream good in your blog and in entire posts which help them in gaining power to stand out and drive more traffic through search engines. It will also increase backlinks to your all posts which help them to boost their rank.
Better Crawling and Indexing
Search Engine Crawlers are also known as Spiders and before I have discussed a topic about 
Stop Spiders to Crawl Archive in Blogger 
and what they liked is always content interlinked with most related contents. As you have seen probloggers always linked related articles because it will helps readers to find and get the desired information easily quickly and also help spiders to crawl and index your all content by given a suitable path to track.
Decrease Bounce Rate
In the Last but not the least profit of internal linking is reduce your blog or website bounce rate without doing any extra hard work. What you have to is provide most related links to readers you think reader will click those links for gain such more content realted to article. It will help you to make your visitors spent more time on your blog and automatically enhance page views of your blog and decrease bounce rate that is very must for every blogger to make trust infront of search engines. Less bounce rate explain the ability and usability of a blog.