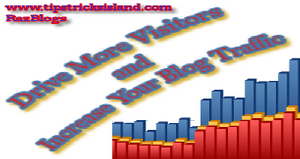 Best Ways to Drive More Visitors and Increase Your Blog Traffic
The main strategy or plan for increasing the popularity of any Blog or website is completely depend on the its traffic and every Blogger has dream to become more popular on the Blogging network that is why always try to find such killer and organic ways for driving more visitors to our website and Blog. I have choose this topic for same series which I have started for beginners to teach and guide them about Blogging and give them some great techniques so today I have decided to leave a small article for increase Blog website traffic. The main factor and the importance of good website traffic are gaining good rank in search engines and also help us make money from the Blogging platforms. The tips for increasing Blog traffic are personally experienced and used by me and also I have observed that tips are very valuable to drive targeted traffic to your Blog.
Blogging Series:-
What are the Best Ways to Drive More Visitors?
May be you have already leaned about these below mentioned techniques. As always I have to mention here that every SEO technique guided by the SEO Experts or Blogger not only for one post but every guide for Search Engine Optimization is for every new post so same here all the tips for driving visitors and increasing traffic are depend on the exercise by applying every new post.
Search Engine Optimization
First of all before writing any post we must know what is search engine optimization and how to optimize? We have already share so many article in the directory for optimization Blog and website. For making some awesome money and drive more visitors you have to focus on the SEO score check the Following list for Search Engine Optimization.
Signup at Discussion Forums
There are bundles of forums on all over the internet for discussing the matters for Blog, website, tips and tricks, software etc. signup for top ranked forum and share your experience in the shape of sharing your quality contents there and drive visitors from the discussion forums.
Leaving Comments
I have also posted a complete article for drive and increase traffic from other Blogs by commenting and leaving your Blog link.
Yahoo Answers
The most questioning and answering platforms where people leave their question for getting such good response. You must check this platform for getting ideas what peoples are looking for and share you Blog and experience with Yahoo answer to drive visitors from Yahoo.
Read :- Optimize images with alt tag to increase Traffic
Social Media Platforms
This is the best method for subjected matter. Always but I think every Blogger will suggest you for join the social media website and create profession Blog pages and profiles then inspire the world by sharing your Blog contents to make them follow your Blog profiles on the social media website such as Facebook, twitter, Google Plus, Pinterest etc. Check the follow topics for driving traffic from Social Media Platform
Traffic from Ebay
May be you are thinking about the ebay that this is the website for buying and selling what does means here for traffic. You should sign up for ebay and leave your Blog link there and you will see how many visitors you received through ebay.
Update Your Blog
For keep and increasing rank and visitors you must always share your experience in the shape of you a Blog article on daily basis and update your Blog. So visitors come to check what recipe has been shared by you for them.
Also Read :- How to Get More Website Traffic (Free Traffic Booster on Your Website/Blog)
Bottom Lines
The bottom lines are the strictly recommended you to do above practice for you every new Blog post for increasing you Blog traffic. In case of any enquiry for the above mentioned matter you can also ask by reply in this post. Be connected us via Social Media profiles and also subscribe our RSS Feeds to get next update directly in your inbox. Regards