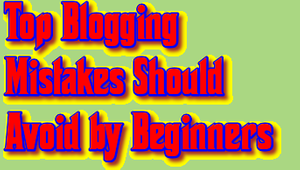 Top Blogging Mistakes Should Avoid by Beginners
Since Started the New series for Blogging shared such topics for become a Blogger and start creating your own Blog and this time giving same series one more topic mostly for beginners who are novice in this platform and unaware from such common mistakes and don't know how to avoid Blogging mistakes. Before I have shared some interested Blogging articles about How to Write a Good Blog Post in which I have share some creative writing techniques but in this post I will share with you some common mistakes which happened by beginners like Blogging Platform, ads placements, short posts etc. so lets start to learn what type of mistakes you have to avoid in Blogging.
Top Blogging Mistakes Should Avoid by Beginners
Right below you will notified and learnt for most of the biggest mistakes which should be avoid in Blogging to rank your site because each one has different reason to be avoided and prevented. So Start Learning and Quote it inside your mind what you have to avoid in Blogging to stay safe from such penalties. 

Free Blogging Platforms
I have shared a complete article for Free Blogging Platform such as Blogger.com or Wordpress.com but that has a different reason just introduction start but in the successful Blogging career you have to get the custom domain because all the free Blogging Platforms has limited facilities which I have mentioned in above linked article so for better Blogging experience you have to purchase domain.
Domain Name
The another biggest mistake I have seen mostly newbie start their Blog with their names or something else. Your Blog name must be related to your contents which describe what about your Blog is or what contents contain your Blog.
Check :-How to make your blog look like a website?
Hosting Service
But before purchasing domain you must collect the information for good hosting provider and most of the time you will see your Blog cannot be accessed. So always use good hosting service provider.
Update Blog Regularly.
The main fact to gain good ranking in top search engines is every day new post with unique and quality contents because some beginner feels difficulty to find topics so for them its hard to write every day new post so avoid this mistake its necessary to update your Blog everyday new update.
Also read :-Best Ways to Make Money from Free Blogging Platforms
Post Length
I received a comment on my article Get Fast Indexed in Search Engines (you may check this) that
" My Blog has 22 Posts but None of them has been indexed"
Huh…… :O if your write every post just for two line how search engines will index your posts? Its necessary your post must be minimum 500 word with proper use of keywords. So always write minimum 500 words article with proper use of related keywords to be index in search engines fast.
ON-Page and Off-Page SEO
I will not write here for this mistake just mention it because this one I have already shared this is also the biggest mistake which mostly happened from beginners read Complete article for ON-Page and Off-Page SEO.
Related Interlinking
I Don't know what think beginner about interlinking because I have seen some of beginners link their posts with unrelated words and post. But interlinking must be related to current article to reduce the bounce rate. Check this article for interlinking benefits.
Duplicate Contents
Don't ever copy contents or anything from internet it will be copyright infringement always use quality and unique contents for your Blog otherwise you will not get traffic from search engines.
Read:- Check Plagiarism Duplicate Contents
Avoid Using So Many Widget
Don't ever use so many widget just like your social media pages RSS Subscription, popular posts etc. because always we like to stay a clean place so same here your Blog must be clean and clear so visitor will like to stay and spend more time on your Blog.
Respond to every New Comment
Be active always and check you comment for your Blog. Because sometimes we made a mistake while sharing any ideas or something difficult for understanding to visitors so always active to response every new comment and feedback for your Blog comment.
Bottom Lines
I think its not enough to be avoided in Blogging but still there is so many mistakes which should be avoided in Blogging and will be share with you early after collection. Waiting for your feedback and response for the above line. Don't forget to Like and Follow our Social Media Pages to be connected always with us … Regards…