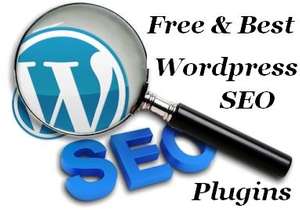 Best and Free SEO Plugins for Wordpress


Unlike Blogger, WordPress has great features and tools to optimize WordPress Blog with Auto Designed Plugins but in Blogger whatever we do, we have to do manually, today I am going to share and recommend some very power SEO plugins for WordPress Blog because this is the dream of every Blogger to become at the top in search engine results and for that reason and to get that achievements before I have also shared a SEO related article for Get Your Blog Index Faster in Search Engines, this time I have also another piece of knowledge related to practice and experience for better Blogging. As we all Blogger know importance of Search Engine Optimization again and again I have shared so many SEO related articles so given below contents is the best series of Search Engine Optimization (SEO) Plugins for Wordpress Blog.
Related Post:- Social Popup Widget with Email Subscription For WordPress
A SEO Plugin for Wordpress Blog provided by John Godley for serving our Wordpress Blog for better ranking in Search engines and optimizes each and every thing for better SEO score such as Custom Keyword entries for every post, Custom Search Result Posts Title, Custom Meta Description mean you can define every thing as per your post s targeted keyword and available in almost 21 different languages with so many optimization tools.
One of the best plugin for optimization of your Wordpress Blog having so many great features specially for beginners because its support Google Analytics, Custom Post Types, Advanced Canonical URLs, Auto Optimization of your titles for search engines, Generate Meta Tags automatically, avoid duplicate contents inside Blog mean it is the plugin which will help to optimize every thing easily in Wordpress Blogs. 
This is the plugin I personally use for my Blog, and get every thing. You can easily insert SEO Title, Targeted Keyword of your post for search engines, post url optimization, custom keywords, custom meta description and after optimization you can check that you post is optimized properly or not if not it will show you report that where you have to optimize or you have over optimized your post. 
Read :- How to Setup Wordpress Mobile Theme
Bottom Lines:- 
All the above plugins are the best for optimization of your Blog, all above plugins are free but may be such functions are comes after purchasing Pro Fuction. Furthermore, I have also seen some plugins leave backlinks in your Wordpress Blog. Hope You will Like this Post Give us Feedback and subscribe free for more.