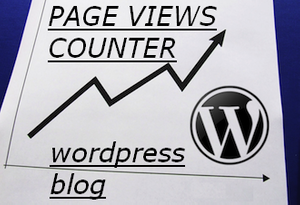 Beautiful Stats Counter for Page and Posts Views for Wordpress
Like Blogger.com, there is no any option in Wordpress in which we can find stats for every posts or page to get information about views of any posts or any page in our Wordpress Blog but. If you have used and worked on Blogger Blog, there you can find a complete section of statistics for coming traffic, posts views, visitors and visits from country but don't know why when I migrate Blogger to Wordpress I have faced some difficulties and one of them is stats for my Wordpress Blog. I was worried for how can I get the post page and daily views for my Wordpress Blog so finally I get the solution for finding stats and get daily and total post views plugin for Wordpress Blog. After using this useful and beautiful tool we can find what people more looking on your Blog. So lets start. 
Related Posts. WordPress Style Email Subscription Social Media Follower Box
Beautiful Stats Counter for Page and Posts Views for Wordpress
Now its time to introduce that beautiful and helpful tool from which we can easily get the daily and total post view for every post on Wordpress Blog.
This helpful plugin is brought to us by a3rev.com and totally free for Wordpress. You can download it from its official site and install it in "/wp-content/plugins/" directory or you may directly install it from your Plugin Installation Section by search "Page View Count". This useful tool will show us all time visits of every post as well as also you can find how many visits you have received for the concerned posts. You can also use this plugin for custom posts if you don't want to use this plugin in your entire Blog posts.
Read:-Social Popup Widget with Email Subscription For Wordpress
For installation and usage of this useful and helpful plugin you should visit its official site and get the complete instruction for how to use this Page View Count for every post and for single post.
Visit here the Official Site of Page View Count
Read :- Image Hover Social Media Sharing Plugin for Blogger
Bottom Lines
Special thanks to its creator who have create such a brilliant plugin for Wordpress user for getting post and page views count and check stats for every Wordpress post. Hope you will find this plugin helpful for your Wordpress Blog. For any further assistance related to Page View Count you can ask by replying in this Post. Don't forget to Like and Follow Social Media Community.