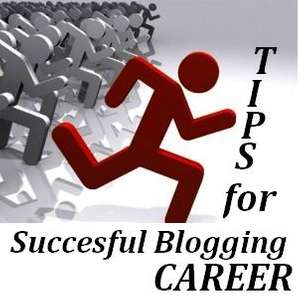 Tips for Become a Successful Blogging Career
Blogging succession is not an easy as we think in real, building your profession creative in blogging business little bit difficult. Just writing a 1000 words page in not blogging but what is that writing valuable contents doesn't matter it is not 1000 words articles but it must be most liked by your visitors and reader is the way of real blogging. If you want to get visits on your site or blog by search engine you have to create valuable unique and quality contents. For successful blogging career you need to become self motivated and having talent to motivate others who are visiting to you blog. In few day I will share another post for how to become blogger from beginning, a complete tutorial from beginning to the end of blogging.
Blogging Related Topics
How to Become a Successful Career in Blogging
This is not task for only one day but you will have to keep this practice for onward for get better result for you hardworking in blogging career. See! If We have written almost/minimum 500 words article for our blog but if it is not valuable and it has not any a single line of quality contents, all your hardworking is crap and waste because you will not get any single result. So here I am going to share such very valuable lines for how can we Create Success Blogging Career.
Blog Optimization for Search Engines
As I have mentioned above that after creating a article of 500 words in result you find nothing mean there is not reader on your submitted article and blog. What is this? for this you have to optimize your blog for search engines. There are so many ways for blog optimization I have also posted before few articles regarding this topic mentioned below.
After such optimization as I have mentioned above links then you have to submit your blog in such bloggers directory. (Bloggers.com ontoplist.com etc.) There is such on the internet where you find all bloggers meet with each other start building relations and it will help you to increase your blog rank in the eye of search engines with the option of links of top bloggers community.
Social Media Sharing
Sharing on the social media site is the greatest way to increase you blog ranking and driving huge traffic to your blog as you have always seen almost every internet website has the their social media icons means the ids or pages button in their website or blog's page somewhere. Before I have shared few very articles for Social Media Post Sharing and Benefits which are given below.
Read:-
Social Media Plugins for Your Blog :- 
Create Relation
Like our physical daily life, in the blogging you to do same, means we have to create relations with other bloggers. What are its benefits; you will visit their blog daily and reading posts for getting ideas for your collecting valuable contents start commenting on their posts in the result you will get same what you were doing with them also exchange links with each other or try to give eachother such space like free ad on your blog. Not only with bloggers but with readers of your blog. Be active always, if someone comment or feedback for your post quickly response to him because this will help to create a good relationship between you and others.
Guest Post Promotion.
This is also a great option for helping to grow your blog ranking. Find some niche with great amount of traffic try to write a article with valuable unique and quality contents and propose guest post. It will give you backlink for your blog and drive traffic for your blog. If your blog has great amount of traffic try you can create a section for guest post with your blogs terms and condition and selected topics.
Bottom Lines
Still this post in not complete mean I can say this is the Blogging Career Version 1 I will share another post on the same topic with new ideas for successful blogging career. This all my above tips are not for reading . If you want to go upside in Search Engine Ranking you have to keep practice for the above shared tips. You will get result in few days. Get Every Update in Email Inbox by Subscribing our Daily updates and Follow our Social Media Networks for updates on your social media timeline from below.