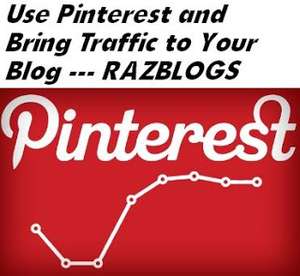 Use Pinterest and Bring Traffic to Your Blog
This is one is the new one, mean I should say that, you are already aware from this name, because this one is come more popular in very little time, if you don't know about it, so where you were hiding. Whatever, I am going to say that That Pinterest is the Best Site for all Bloggers in
social media platform
, because in a very small time people make Pinterest very fast growing
Social Media Network
, but few of them don't know how we can use Pinterest. But what I have found I will share with entire my visitors. 
Check This >>
How we can Use Pinterest for Blogging 
In this post I want to share some Pinterest Tricks for better for Blogger that how can we drive traffic for our blog using Pinterest because I have seen that this one means Pinterest has become more familiar in very short time it means people like Pinterest and use it. So for better Bogging follow my given below such ideas.
Motivation 
Like every new day we all Bloggers try to find such new ideas and collect bundle of information for a single topic. So here I want to before choosing a Topic you must visit Pinterest for getting ideas about what are peoples looking for and what type of topic you should select for today's post because it has been observed by ProBloggers and Online Businessperson that Pinterest is the Best Social Media Platform where you can find ideas for popular trending and what peoples likes to read.
Connect Your Blog with Pinterest
As I have discussed above about the Pinterest that this is the best platform from where you can drive and get huge traffic to you Blog. As per Blog categories you can also make different categories boards in Pinterest for each type of article if you sharing any article About Social Media You can make a Board about Social Media and Pin That Article in Social Media Board so visitors/Fans/Follower can easily find what you have posted and what your post about so always pin you Blog post means Share You every post to Pinterest but you cant pin it without image. Your article must have any image inside for Pinterest.
Create Relationships 
Try to find such other Bloggers on Pinterest it will help you to create mind and ideas for your Blog and you have to show them you have like their posts and for better relationship for other Blogger you must share their posts to you fans in result you will get good relationship and also same thing they will do for you means you posts also will be share to their fans.
Recommendations:-
Final Words
Hope you all will like my this post. For any further assistance regarding Pinterest or any other information you can ask by reply in this post. Also I will share another information regarding Pinterest that how can us Analyze Our Blog from Pinterest. Stay connected with us for get such useful tricks also don't forget to like and follow our Social Media Community.