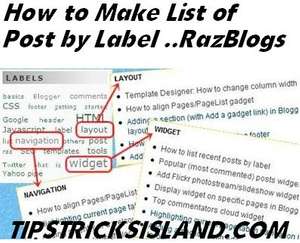 Auto List Creation of Posts by Label
Are you being tired from making manual list of post by label. So now don't worry, what I am going to share with you this is very 
wonderful trick
 for those who want to 
make complete lists of posts as per label 
or category in Blogger or Blog. Somewhere I have also found such Bloggers are using Linklist gadget for the subjected purpose and that will take long time to Adding a Post in the Gadget of Label. For saving our time for 
blogging 
and do the same working in a just a click I am going to 
Introduce a Script from 
which you the concerned label will generated automatically. 
Recommendations
How to Create Auto List of Posts by Label.
I have made it for you very simple checkout below the widget generator for Posts List Generator by Label. You can make it
In the Widget Generator insert your Blog or website URL in the first coloum.
Then insert your lable category in the second column.
In the third column you to insert the total number of post that you want to shown by widget. Remember it must not be more than 500.
The click on the Generate Button then Copy the Generated Script and
Go to Blogger Dashboard >> Layout >> Add a Gadget
Install a HTML/JavaScript Gadget and Paste the Generated Script and Label Give it name as per you label of Post which you have inserted in the second column of Label Field.
Save Your template and checkout your Blog.
You may also like this>>
Any further assistance you may ask by replying in this post. As soon as possible I will reply. Follow our Social Media Networks or Subscribe us our Daily updates.