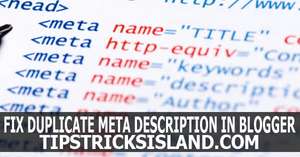 How to Fix Duplicate Meta Description Tag
This is a quick step to the heaving error that caused the problem for most of you. Hundreds of time I was thinking and thinking when I was a beginner that why my blogger page is showing meta description two times and also Webmaster Tools show me that same error duplicate Meta Description.
Read:- SOME VERY IMPORTANT SEO TIPS
If you look at the source file of your blog after that it will show you two meta description on the same page. One under <head> tag and one right across the title tag. This is an example of multiple meta tag for the description displayed when blogger introduced Search preference last year offering dynamic blogspot users to enter information for each post they publish.
This option you will find in the Blogger post editor like "Search Description" in the right side of the post editor.
Read:- Most Important SEO Tools for Bloggers in 2014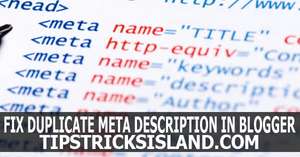 How to Fix Duplicate Meta Description
Duplicate meta description also affect your traffic and after fixing duplicate meta description error it will help bots crawl better to index your contents Now I will tell you how you can fix duplicate meta description.
1. Go to Blogger Dashboard > Template > Edit HTML
2. Check on Expand Widget Templates
Now find the following code
Maybe it will be in the top few lines and now replace this code with this next one
Now save your work what we have done with Save button and open your blog's homepage and check the source code. It all done. If you need further help regarding meta description reply in comments.