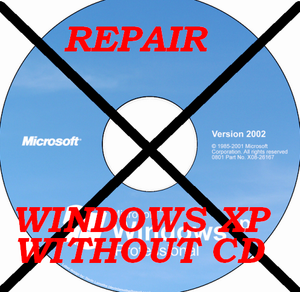 Repair Windows XP without CD
Sometimes we are facing problem of windows XP in the shape of Fatal Error, pc restart sometime, or showing system files crushes, and make mood off. These all things happening because of file infection, virus, registry corruption or such other basics problems. Then what you are thinking is where is my Windows XP Bootable, I have to reinstall windows bla bla. But what I am going to share it will help you to repair you computer without using windows xp bootable CD.
Another Related Posts
How to Repair Windows XP Without Bootable CD.
Now I am going to share the subjected trick for repairing you windows xp without CD but if you are using Laptop you must plug your system with Power source. And follow the give below instructions. (this process just works in Windows XP Only) 
Click on Start Menu and then RUN
In Run type "webfldrs.msi" (without quotes) and click on the Run button or Press enter
You will see a new window will appear as per picture shown below

Now click on the Reinstall Mode and it will start process. Then it will ask for restart your system and Restart Your Sytem.
You have all done
Now your system is free from Viruses and Corrupt Registry.
You may also like this
Further details you can ask by replying in this Post or contact us. For more tips and tricks follow our social media ids and Subscribe our Free Daily Updates.