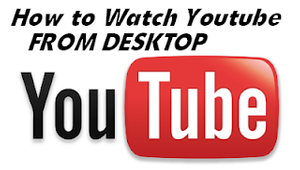 Watch Youtube Videos from Desktop
As before I was always searching for 
desktop application for watching Youtube Videos
from Desktop
 while I am working on my office work or any other work such as browsing internet, working on Blog, writing such articles or whatever. 
How to Watch Youtube Videos from Desktop
Here I will share a trick with you from which you can easily watch youtube videos from your desktop during working on such other application. But this trick in only working for Google Chrome User if you want to install Google Chrome Download it from there Office Site (Click here)
First of all you need to install the Chrome Extension for watching youtube videos from your desktop.
Click here to Install Picture-in-Picture for Youtube
After installation of Picture in Picture you will see a button below in every youtube video with the name of PIP as per picture shown below.
Once you click on that button immediate automatically a small popup window will appear on the corner of your desktop from where you can easily watch youtube video from you desktop with complete features means also you can pause play or replay same video. Maximum you can pip upto four youtube videos on the desktop by clicking in PIP button..
Another Recommendations
Hope you all will like my this post for watch youtube Videos from desktop. Stay Connected with us Follow us on Facebook Twitter GooglePlus and Subscribe us Get Email alerts for every Tip and Trick from TipsTricksIsland.com