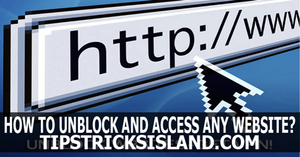 How to Unblock Website? Best Ways to Access Blocked Websites
While using the internet, I have found so many websites which are blocked in some regions or maybe some of blocked by their countries (reasons best known to them). Some of them are maybe not good to be on the internet such as adult and porn websites and some of them are just accessible in specific regions and countries.
As a blogger, I have to collect all type of information, tips and tutorials for myself and also to share with my visitors. Also, I have seen some of YouTube videos which are just playable in the specific countries. So this post is just for information purpose of how to unblock and access blocked websites which are blocked in your region or in the country.
Related:-  How to Block Specific Websites Without Using Any Software
Best Ways to Access and Unblock Websites
Earlier before, I was also unfamiliar with accessing any blocked website but when we Pakistanis were facing the issue of YouTube Ban, all Pakistanis was set away from YouTube and YouTube has been blocked in Pakistan. But finally after researching I have collected such tricks to unblock YouTube without any third-party software. Therefore, today I have decided to share another trick for unblock blocked websites.
Check :- Improve Your videos Ranking on YouTube for Getting More Views
Unblock Websites by VPN
Virtual Private Network (VPN) extends your network and makes it private means after installation or activation of VPN you can surf internet anonymously. I have seen so many third-party VPN providers, though you can create your own. Check the list of Best VPN service providers to Unblock Websites which comes in both free and paid platform.
Unblock Websites with Proxy
Another method for unblocking website is Proxy tools. If you search on any search engine for a proxy website you will find thousands of website which are already programmed and managed. You just have to put an inaccessible website and click on the surf/go button to access it. Here are some best Proxy websites to open blocked websites.
Also Check:- Make Money with Adsense Without Having Website
Open Blocked Websites with Browser Addon/Extensions
The best and rated internet surfing browsers are Mozilla Firefox and Google Chrome, so this trick is mostly for these two browsers. While searching internet, I have also discovered some addon for both browsers to unblock and access blocked websites easily without installing any third-party software or visiting through any proxy website. Just you have to search addon or extension for your current browser and install the addon as linked below.
For Mozilla Firefox, Install the following addons
For Chrome Browser
Also Read:- Best Website to Get Awesome Facebook Timeline Cover Photos
Bottom Lines
All the above tricks are just for information purpose. If anything not suitable for anyone who can direct contacts us. If you like it please share with your friends and also feel free t ask any query related to above article.