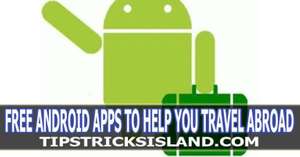 Five Free Android Apps to Help You Travel Abroad
In the 21st century, smartphones and tablets have become the best tools for international travel. In the past, international travellers relied on paperback books, foldable maps and Internet cafes to help them in their sojourns abroad; these days, however, people can plan their trips abroad and get the information they need on the go right from their smartphones and tablets.
Although some international travellers choose to get the information they need by accessing their mobile browsers and visiting certain websites and online travel portals, it is far more efficient to install the right mobile apps before they start their trips. The following five mobile apps for devices powered by the Android operating system will make your travel abroad much smoother:
Five Free Android Apps to Help You Travel Abroad
1 - Google Maps and Waze
Getting around when visiting a foreign country often ends up becoming an exercise in guesswork and frustration. Asking locals for directions is not always the best idea in this regard, but looking up an address and geographic information on the right app can save travellers from getting lost. To this end, the best mobile app for getting around is certainly Google Maps. One of the best aspects of Google Maps is that most travellers are thoroughly familiar with its desktop interface, and many find that the mobile version is even more intuitive. In this regard, it is important to remember that Google Maps is a native Android app, which makes it very solid in terms of user interface, accuracy and ease of use.
Google Maps has many advantages over the myriad other mapping apps, but it is definitely the most comprehensive in terms of being able to explore landmarks, tourist attractions, commercial districts, transit information, reviews, and more. Whereas Google Maps is great for exploring on foot, Waze is the best app for tourists or business travellers who choose to rent a car. Waze is powered by Google Maps and it features a very responsive GPS system plus a vibrant social network of collaborators who are interested in helping others beat gridlock.
2 – Hipmunk
A pleasant travel experience abroad is highly dependant on proper planning. With Hipmunk, organizing a trip overseas is efficient and comprehensive. This app features a dedicated search engine for flights and hotels that can be booked directly from a smartphone or tablet. The information is neatly arranged in terms of flight duration, hotel recommendations, traveller's reviews, location, and more.
3 – SkyScanner
There are hundreds of mobile apps that let users search, compare and book flights, but SkyScanner is the best in terms of user experience, accuracy and functionality. Travelers can filter search results by flight duration, aircraft, departure and landing times, price, and more; plus, SkyScanner neatly organizes future flight information by weeks and months so that travelers can get the best deals by booking ahead of time.
4 – Uber
Foreign taxicab services are often a major source of discontent for international travellers. One of the problems in this regard is the lack of uniformity and the scant information available to travellers ahead of their arrival. The rules of taxicab services can greatly vary from one country to another, but personal transportation service Uber has focused on information and uniformity since its early days as a small startup. Uber is not available in all countries, so it helps to properly install and configure the app before taking off. There are many advantages to catching an Uber ride, and being able to seamlessly pay without cash without having to hail a cab from a rainy street corner are just two of them.
5 – Expensify
For business travellers who must keep track of their expenses abroad, Expensify is truly a must. It works best when a company signs up for the service and provides the app to their travelling employees, but individuals can take advantage of it as well. Entering expense information is as easy as taking pictures of receipts, and Expensify also features powerful reporting and itemization tools. This app is also helpful for non-business travellers who need to budget their future travels.
In the end, the five Android apps above are the most convenient for international travellers in terms of organization and efficiency. Remember: Smart travel begins and ends with your smartphone, but only when the right apps are installed.
This article was written by Natalya Pobedova. She is 28, from Brno Czech Republic, and runs a flight help website called http://www.travelsiders.com/ as a hobby. At the moment, she works as a freelance web developer. When she has a free minute, she is hanging out with her friends or helping others at Stack Overflow.