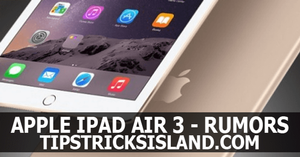 This hasn't been long since the iPad Air 2 has been released. October 16 and today; it's only a few months yet the Apple people have buzzing over a new Apple iPad; mostly known as iPad Air 3 or iPad 7. There hasn't been an official announcement yet so our review would be based mostly upon assumptions. Digging internet for long; we could only find plenty of concept photos for the upcoming iPad Air 3. We have tried seeing through Apple's eyes; how the next iPad Air 3 could actually turn out to be.
Read :- Samsung Galaxy Note 5 Rumors & Specification
iPad Air 3 Release Date
The iPad Air 3 would probably make its drop to the market in October 2015. The latest unveiling event took place during October 16th, 2014 at Apple's Cupertino campus in California. This is more or less Apple's regular timing schedule for releasing new iPads.
However, Apple could throw an unveiling event far before the actual releasing event takes place just to let the people give a slight hint of what's going to be there on the final release.
Design
Apple iPad Air 2's design has been a major re-imagination of an already existing device; the iPad Air. However the basic Apple vibe wasn't taken off the design; but the dimensions had been slimmed down to 6.1 mm of thickness. This makes the iPad Air 2 worlds thinnest yet one of the most powerful tablets ever made. Since the iPad Air 2 is very significantly thinner than its predecessor's 7.5mm thickness; we could expect and even thinner iteration on the next generation.
Apple iPad Air 2 has the risk of being bent; even though no one seemed to try out the bendgate conspiracy on an iPad Air 2 but the thickness poses the imminent threat. Given that fact; Apple could repeat the same design again and this directly goes against the previous theory we had written above. Let's see which one Apple would choose for their iPad Air 3!
Hardware Configuration
The iPad Air 2 had the Apple A8X chip built in. It's the same processor that's been used in the iPhone 6 and iPhone 6 plus; only with some minor upgrades and tweaks for a tablet device has been made. According to Apple's statements this gives the iPad Air 2 12 percent more working ability and 180 times better graphics processing.
On iPad Air 3; hopefully the A9X chip will make its opening journey. If Apple makes an exception in the iPhone 6s processor then it will reflect the iPad Air 3's hardware capability as well. We shall be waiting for the iPhone 6s in the first place to make better assumptions about the iPad Air 3.
Display and Camera
Apple is good at making surprising entries. We wouldn't be much surprised if they put a 4k display instead of a raging 2K QHD display like everyone else. However, that won't be much cost effective so Apple might choose to keep their margin within a 2K display range.
And about the camera; the tablet cameras don't really get much upgrades. Even though the scenario is not true for the Apple gadgets as the iPad Air 2 has received a major facelift from the previous camera. Expect better OIS, better low light photo shoot capability and increase amount of megapixel count.
Summary
Like every other time, when the Apple iPad Air 3 finally makes its debut; it will leave a footprint. For the time being keep using the Apple iPad Air 2 and if any updates show up in the meantime, we shall serve it for you.