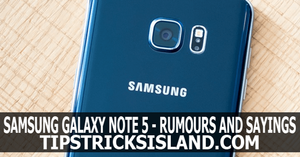 Samsung Galaxy Note 5 – Rumours, Sayings and Specification
Samsung Galaxy Note 5 is a concept phone. Phablet and smartphone lovers are eagerly waiting for it. Whether a rumour or fact, this is the most awaited phones for the year 2015. Although nothing has been confirmed as of now, here is a list of some exciting features the Note 5 is expected to come integrated with
Samsung Galaxy Note 5 – Rumours and Sayings
1. It may woo the smartphone lovers with a screen measuring anywhere between 5.7 to 6.0 inches. Talks are on for a new YOUM flexible screen too. Special Gorilla glass will be corned to ensure the apt protection of screen. Some of the other features of the screen include dustproof, waterproof, and scratch resistant quality.
2. Note 5 is believed to come equipped with a metallic (aluminium) body. This ensures a chic appearance and strength.
3. It is expected to have a 4-5GB RAM.
4. This time, the Note may be the lightest in the Series.
5. The phone may have a 21 MP primary camera combined with dual tone LED FLASH and Autofocus. It may even possess a 5-6MP secondary camera for more effect.
6. Facility for full HD video recording will also be available.
7. Note 5 may be available in two memory variants; 32GB and 64GB. This will be expandable up to 128GB.
8. Some superior new age features such as Finger Print Scanner, HBR scanner, and Retina Scanner may also be included in the phone.
9. 3D image recording facility may also be one of the features of this phone.
10. Talks are on for integration of octa-core processor.
11. The successor of Android L will be included in the phone.
12. Wireless charging is another fabulous feature of this phone.
13. The battery power of 4000mAh will ensure longer talktime and standby time.
14. Note 5 will be available in different colour variants.
15. Snapdragon 810 chipset is also expected to be present.
16. Rumour has it that a new model of Gear will be launched along with it.
Specification for Samsung Galaxy Note 5:
Connectivity – The phone will support the following:
·         2G
·         3G
·         4G
·         LTE
·         Wi-Fi
·         BLUETOOTH 4.0
CPU – The phone comes integrated with Exynos 7 processor combined with 3Ghz processing speed and Adreno 420 GPU.
RAM – It is expected that Note 5 will come with around 4 GB and 5GB RAM.
Memory – The phone may come with 32 GB Internal memory 128GB which is expandable.
Display – The screen measuring 5.7-5.9 inch will be a Capacitive Touch Screen combined with unique Gorilla glass. YOUM flexible display may also be integrated to this phone.
Camera – The phone comes with a primary 22MP camera and a 5-8 MP secondary camera combined with superb features such as LED Flash Autofocus.
Operating System – The phone will be embedded with Android L.
Sensors – Note 5 will come with the following sensors:
·         Barometer
·         Accelerometer
·         Gyro sensors
·         Infrared sensors
The Price
For those expecting a hi-end performance oriented smartphone at an affordable price will be disappointed. According to rumours, the phone may cost you around $1200 (approximately 65,000 INR) all over the world.
The Launch
Nothing is confirmed about the Samsung Galaxy Note 5 Release or Launch Date. However, talks are in about its worldwide launch in September 2015.